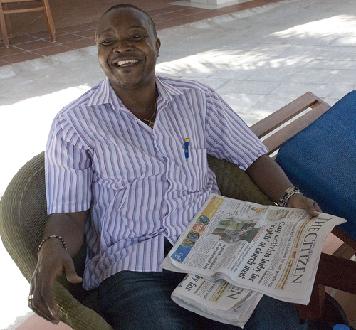 Photo of Nigerian Anglican Gay activist Davis Mac-Iyalla in Dar es Salaam, Tanzania, during the Anglican Primates' Meeting February 17, 2007. He was there to confront Peter Akinola, the Anglican Primate of All Nigeria, who has pressed for the world's most sweeping anti-Gay law. (The Rev. Scott Gunn)

Do not attempt to become Buddha.
---Dogen
Resolve to be thyself; and know that he who finds himself loses his misery.
---Matthew Arnold
The more deeply we are our true selves, the less self is in us.
---Meister Eckhart

The simple answer to the question is he has made his first visit to the United States from Togo, where he is in exile, to tell his story. It is the story of a young man born in the south of Nigeria (an important geographic distinction following civil war there some 40 years ago) who happened to get asked to run a church school and accepted. He did so with some fear because at age 14, he realized his sexual desires were for other males. In Nigeria you could go to jail if you acted on such impulses. His work at the school was so successful that it came to the attention of the Anglican bishop of the area at the time, who invited him into his administration. In 2003 Bishop Ugede died suddenly of tuberculosis. The new administration, appointed by Archbishop Peter Akinola, fired Davis and removed any priests who supported him. Within 2 years, Davis had become the center of a growing movement of gays and lesbians in Nigeria demanding rights for their way of life. Archbishop Akinola responded with support for legislation, currently pending, that will make it a crime for any citizen to associate in any way with someone identified as homosexual. The term of imprisonment will be 5 years.
That story is the simple answer. At the same time, the American branch of the Anglican Church, known as the Episcopal, consecrated a bishop in New Hampshire who is openly gay and has a partner. Within hours, Peter Akinola in Nigeria declared the overwhelming majority of archbishops and primates in the area known as the Global South would not recognize Gene Robinson as a bishop. He said the church now was in a "state of impaired communion" and declared he refused ever to be in the same room with a homosexual person. Conservative Episcopal churches in the United States have moved to support Akinola financially and even explore ways to join his diocese in Nigeria. It is possible the entire Anglican church, numbering millions of members worldwide, will divide over this issue. The Archbishop of Canterbury will make his first visit to the States since all this blew open at the end of the summer...around the time Davis will conclude his tour in California. Can this one man have any impact on the situation?
When Davis became convinced he should make himself available in the US for a speaking tour, naturally there were problems getting a visa from this country to allow him in. A call went out for individual churches to extend a formal invitation to him to speak. Among the first---and maybe the first---was from my rector, Bill Carroll, from Good Shepherd Episcopal Church here in Athens, Ohio. So it was that Davis Mac-Iyalla presented the first address of his tour here on Sunday. My personal reflections on the talk, those of my 15-year-old daughter, and press coverage of the event will follow in comments. I wanted to get something up and out right away though because of the urgency surrounding this whole situation.
He was in Columbus Tuesday and continues to Cleveland today. His itinerary still is open for invitation. Accompanying him is a writer named Josh Thomas, from Cincinnati I believe. His account of Davis' story is here
[link]
among other places on the Internet. A new interview with the Archbishop of Canterbury is reported here
[link]