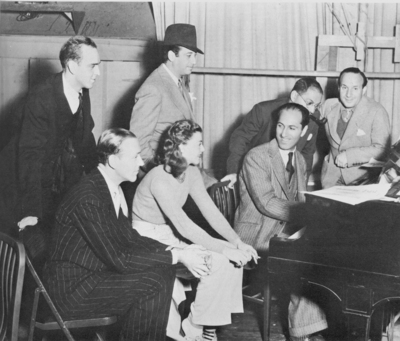 On the set of Shall We Dance, 1936, are dance director Hermes Pan, Fred Astaire, director Mark Sandrich, Ginger Rogers, George Gershwin, Ira Gershwin and musical director Nathaniel Shilkret.
Come back to square one, just the minimum bare bones. Relaxing with the present moment, relaxing with hopelessness, relaxing with death, not resisting the fact that things end, that things pass, that things have no lasting substance, that everything is changing all the time---that is the basic message.
---Pema Chodron
Awakened, I hear the one true thing---
black rain on the roof of Fukakusa temple.
---Dogen
I should be content to look at a mountain for what it is, and not as a comment on my life.
---David Ignatow

Saturday morning, and I'm delighted to read the cover story of tomorrow's New York Times Book Review. Garrison Keillor writing about George Gershwin. I've neglected to report how wonderful I thought Garrison was in the Robert Altman movie about his radio show. I had put off seeing it because Prairie Home Companion can get too cute at times, and I thought a cast of Kline and Streep and Tomlin and Harrelson might be too great a temptation in that direction. And I've heard Keillor personally is pretty aloof and out there, in his own world...so I thought probably this movie is going to be painful.
Besides, for those of us who grew up in front of a huge radio that was bigger than we were---with glowing, radiating tubes in the back that looked like a Flash Gordon outer space city---how many times had we gone to the movies to see an adaptation of a favorite radio show? Yuck! How many were any good? The Shadow? The Lone Ranger? The Fat Man? Arthur Godfrey? A wonderful voice comes out of that dumb guy? Most were about as flat as a Lux radio version of a movie.
But, except when Meryl Streep tries to loosen him up a little, Garrison Keillor is wonderful in the movie. In fact, he makes great fun of himself as someone totally out in his own world. And he nails radio when he tells Lindsay Lohan---who also is wonderful---that nothing ever ends in radio, nobody gets old, nobody ever dies.
But of course the kind of music on the show---oh god, Woody Harrelson and John C. Reilly singing Bad Jokes is worth the price of admission...and by the way, The Behind-The-Scenes feature on the DVD may be better than the movie---I say, the music ain't exactly Tin Pan Alley. Tin pans galore, but we don't hear In The Still Of The Night. So why does anyone think Garrison Keillor should be reviewing a new book by Wilfred Sheed about Gershwin, Berlin, Porter, Arlen, and Kern?
It's probably because, like me, Garrison grew up in the '40s and listening to radio, so what has come to be known as The Great American Songbook is imprinted in our neurons. If we're walking through Central Park with a girl, and Dancing In The Dark begins to play, we may have to turn our walk into a dance that will be legend in the minds of anyone who sees us. Those songs do that to people. They still do it...maybe more than ever. Many rock singers just have to try an album...like jazz players want that one with strings. Opera singers too...and while it used to be horrible to sit through, some of them are starting to get it. I heard Renee Fleming sing You've Changed the other day...and I had to nudge Billie Holiday over in my mind to make room for her.
So Garrison, like Guy Noir, has blues in the night in his sinews. He can set 'em up, Joe, with the rest of us. The rest of us who have heard a tune on the juke box...a tune so devastating there was nothing more to do but get up off the stool, reel toward the door, and out into the lonely night. Maybe she'll be there.
The review is here
http://www.nytimes.com/2007/07/22/books/review/Keillor-t.html?_r=1&8bu&emc=bu&oref=slogin
or posted in full at jazzoLOG
http://www.newciv.org/nl/newslog.php/_v63
.