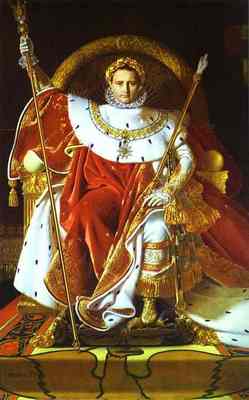 Jean-Auguste-Dominique Ingres. Portrait of Napoléon on the Imperial Throne. 1806. Oil on canvas. Musée de l'Armée, Paris, France.
You do not need to leave your room. Remain sitting at your table and listen. Do not even listen, simply wait. Do not even wait, be quite still and solitary. The world will freely offer itself to you to be unmasked, it has no choice. It will roll in ecstasy at your feet.
---Franz Kafka
To learn the way it is important to be sharp and inconspicuous. When you are sharp, you are not confused by people. When you are inconspicuous, you do not contend with people. Not being confused by people, you are empty and spiritual. Not contending with people, you are serene and subtle.
---Liao-An
The best things in life are nearest. Breath in your nostrils, light in your eyes, flowers at your feet, duties at your hand, the path of right just before you.
---Robert Louis Stevenson
In the past few years, many of us on the American Left have found ourselves looking for understanding to the writings of historian Juan Cole. Born in Albuquerque in 1952, John "Juan" Ricardo I. Cole is professor of modern Middle Eastern and South Asian history at the University of Michigan. Not only does he have a new book entitled Napoleon's Egypt: Invading the Middle East, but he also translates works in both Arabic and Persian, and maintains a popular weblog called Informed Comment [link] .
The other day Juan Cole posted an entry in which he offered notions of historical comparison that he couldn't help thinking about the Bush involvements in the Middle East, given what he'd learned about Napoleon. While I strongly believe the species' survival depends on learning at least something from history, I also think historical comparisons are a tricky business. Nevertheless the current Bush asked for it in his big speech the other day when he invoked Viet Nam as his latest scare tactic. If he wants comparisons, then let us hear Professor Cole's.
Yesterday Tom Englehardt posted the essay at his site, and Juan Cole is requesting any citation of it be linked to TomGram, so I'll do that. He'll be discussing his perspective this afternoon at the New America Foundation in Washington, DC. Supposedly C-Span will be televising it live at 12:15 PM, and giving it an hour and a half.