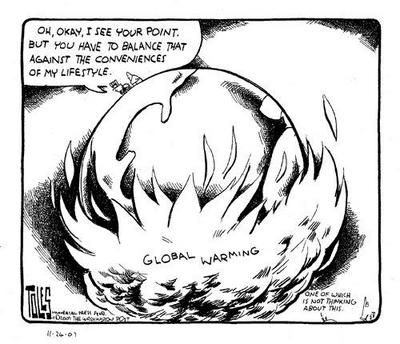 Stillness---
soaking into the rocks,
the cicada's cries.
---Basho
The whole moon and sky come to rest in a single dewdrop on a blade of grass.
---Dogen
Men cannot see their reflection in running water, but only in still water.
---Chuang-Tzu
I remember my first plastic straw vividly. You know, a straw: what you put in your glass and suck and the beverage comes up through it and into your mouth. It's sort of a toy too; you can blow bubbles into it and make weird noises when the drink is gone down at the bottom. Sometimes they come in wild shapes that you have to suck harder on to get the liquid all through the roller coaster ride and down your throat. You could find them in a container on the soda fountain counter but quickly they came individually wrapped in paper. We'd tear off one end, dip the other into our milk shake, and blow the wrapper up to the ceiling where it would stick...much to the manager's consternation.
Before the plastic straw they were made of paper. And they'd get soggy eventually...and you'd have to ask for another one, and they just weren't pleasant. The plastic straw could endure the rigors of the milk shake of the 1940s and 50s. It wasn't a real milk shake if the straw didn't stand straight up in the middle of it. You wouldn't even go in a place again that didn't make shakes that thick. So the plastic straw filled a need for which the American civilization cried out.
The soda fountain was the center of social activity back then. Kids went there after school. The soda fountain had other concoctions and drinks there besides milk shakes. In fact it was the dairy bar that came along later that really specialized in the milk shake. If you go from a fountain to a bar, obviously you're getting more serious. The dairy bar was outside town and you needed the family car to get there. In fact, our family used to go to Jenkins Dairy after supper as a special treat...usually to sit at the bar and have milk shakes. But sometimes when we were feeling particularly flagrant and sinful, Mom would order a hot fudge pecan sundae...with whipped cream and a cherry.
A bit later, probably after I'd gone off to college and got filled with strange ideas, I began to think about those plastic straws. I thought during the process of manufacture, teeny tiny particles of plastic must have been left on the inside...so that when you sucked on them, those particles would come up through with the beverage and go down into you somewhere. What would become of those particles? Wouldn't they eventually form a glob of some kind...like when somebody dumps a shopping cart into a creek, the sand and stuff builds up all around it? Couldn't that be like a tumor...and maybe be involved in the cancer suddenly everybody seemed to be getting? Mom, a registered nurse, said I was crazy.
I remembered how, when I became a teenager, I was a profuse perspirer. In fact all my excretions seemed to be profuse. They had antiperspirant then. It was new. It stopped you from sweating. Where did the sweat go? Well, I didn't ask that then. I was just relieved my T-shirts weren't going to be soaked anymore. I'm not sure how it worked. Maybe there were little aluminum particles that went into your skin and clogged your pores. Or maybe it was a plastic coating. I just wanted it fixed and I trusted the ads and I used it. Mennen. I didn't like the smell, but I couldn't stand it if the girls saw me sweat. But apparently it didn't stop my sweating completely...or else I put too much on...because eventually something began to happen to the armpits of my T-shirts. They changed to a sort of yellowish color...and then...and then...the armpit sections actually became brittle, like the pages of an old book, and actually broke apart. And I got a painful rash in my pits. I switched to deodorant. What's in your cosmetics, girls?
By the 1960s plastic was everywhere. It was an essential industry. Progress through chemistry! No one forgets the guy in The Graduate who tells Dustin Hoffman to concentrate on that one single word: plastic. There was the micronite filter for smokers. There was new convenient packaging in the stores. Kraft sliced your cheese for you and put each one in a plastic wrapper. You just had to peel if off and eat your cheese. There was saran wrap that covered your dishes right out of the oven. Increasingly your sound equipment had plastic parts inside...and eventually your car too---and then the whole product was encased in plastic. You couldn't even get in there to fix something. You just threw it away and bought a new one.
I noticed a problem with my earphones, my headsets. They didn't last. For my comfort they had plastic, foamy cushion things for my ears, and sometimes up onto my head too. After a few years, that foam stuff turned to a black-gray goo...or fell apart into powder. You couldn't tell that had happened until you put the earphones on and the goo got all over your ears and hair and stuff. It was even worse for the 8-track tape industry. Every 8-track cartridge had little levers with that foam on them, and it's how it attached into your machine. If you left your cartridges in the car, the transformation into goo happened even quicker...and so you'd pop it into the player, and nothing would happen except your player was ruined. The countryside became littered with cartridges people threw out their car windows in fury. The entire industry collapsed. (There were other reasons, but they involved the graphite coating on the tape...which also became a mess.)
I always thought plastic was some kind of inert creation. After all, they said it never biodegrades...and the quadrillions of plastic baby diapers everybody buys go in the landfill where they'll be forever. But the plastic I kept running into seemed to change and come apart over time. Think of the dashboard in your car. It's soft and pliable when you buy the vehicle, but eventually it gets brittle and even cracks. What's going on there? The sun, heat? But what's with the composition of the chemical that lets it do that? Why do plastic toys for babies and children do the same thing? Is rubber ducky really safe for baby in the bathtub...and baby's mouth?
And so it was I became aware last evening of a new book. It's called Exposed, and it's about the actual chemicals that go into the manufacture of plastic, many of which have been proven toxic and which change composition over time and exposure to the atmosphere. Terry Gross interviewed the author on Fresh Air yesterday, and it sounded as though she came away as shocked as I am. The man spent much of his research time in Brussels, which is the capitol of the European Union, a group of countries that is legislating more everyday to ban chemicals found in many American products. Most of the research on these products is being done in this country, he says, but no one here will pay attention. American companies now are producing 2 sets of their products: one that meets the lack of standards here, and one for sale in Europe and to other countries that are catching on. He said China, which produces 85% of baby toys, is considering doing the same.
Terry wanted to know why this is. Is there a different attitude in Europe than here? He said there is. In Europe there is an outlook that the government is there to protect the population from something that might become dangerous. In the United States, we prefer to continue on our way until a disaster actually happens. Then we'll analyze that and figure out who's fault it was...and maybe try over a period of years to prove it in court. Afterwards we might change something. Hmmm, seems about right. We're expecting our new granddaughter in a couple of weeks. I guess I'd better print this out for my son to read. Terry's interview with Mark Schapiro, Exposing a Toxic US Policy, can be streamed here~~~
http://www.npr.org/templates/rundowns/rundown.php?prgId=13