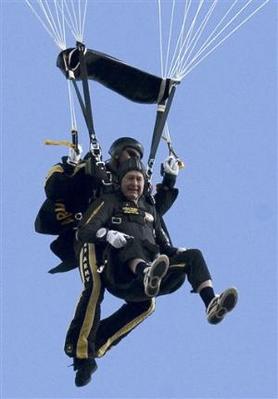 In the photo, former President George H.W. Bush makes his entrance to his presidential museum during a rededication ceremony with Army Sgt. 1st Class Mike Elliott with the Golden Knights parachute team in College Station, Texas, on Saturday, Nov. 10, 2007. (AP Photo/College Station Eagle, Gabriel Chmielewski)
Does one really have to fret about enlightenment? No matter what road I travel, I'm going home.
---Shinso
To find the universal elements enough; to be refreshed by a morning walk or an evening saunter...to be thrilled by the stars at night; to be elated over a bird's nest or a wildflower in spring---these are some of the rewards of the simple life.
---John Burroughs
I know there is no good in my trying to explain to you why I am away from home—war doesn't make sense even when you are grown up.
---(Lt.) Henry Fonda to his children during World War II
From: "Annie Warmke" <
annie@bluerockstation.com
>
To: "Richard Carlson" <
JAZZOLOG@peoplepc.com
>
Sent: Sunday, November 11, 2007 10:05 AMSubject: happy veteran's day
> Happy Veteran's Day!
> This morning the local NPR station played their favorite tunes for "Happy
> Veteran's Day" and each year after about 15 minutes I have to turn the radio
> off.
>
> The songs are full of one message - pain. Some sing about the pain of going
> to war. Others tell the story of losing a limb, or losing children. They
> all tell a story that leads me to the same conclusion each year. War is
> hell and it is not the solution.
>
> So today I've turned off the radio earlier than usual and begun to wonder if
> that's not what America is doing each morning when the radio offers the
> morning "war report" as I call it. I'm wondering how much longer we'll turn
> off or tune out the news of death and destruction that is happening in our
> names.
>
> The elections this last week remind me that nothing so far has changed. We're
> still up to our eyeballs in corruption in the government. The Democrats
> refuse to take a stand that actually changes anything on any issue - you
> pick one and you'll see what I mean.
>
> As I look out the window at the colorful leaves on the trees - the trees
> that ought to be naked - I am reminded that we're at war in many places on
> this earth, and it seems we're losing them all.
>
> Annie Warmke is an activist, writer and farmer who lives at Blue Rock
> Station with her family of humans, llamas, chickens, goats, cats and her
> French-speaking dog, Rosie.
Dear Annie,
I haven't been to a Veterans Day parade in Athens in a couple years. I guess they've been on weekends, but when kids are in class a bunch of schools march and show up or something. Usually people on the staff put the pressure on or the principal is gung ho, and whole elementary schools turn out. The last couple have been particularly patriotic in the cloying way that makes me uncomfortable. That was before there was more of a general mood of We Support The Soldiers But Not This War. Of course in the military-trained mind---and for the kind of people who run parades like this---there's no such thing as not supporting a war, because your commander has issued an order.
As a kid, it still was Armistice Day. I knew it was about the end of World War I, at 11:00 on 11/11 in some long ago year (1918) but I didn't know what any of that was about. Few others did either, and there certainly weren't a lot of festivities. I wonder if anybody today knows what World War I was about. We sent 2 million soldiers to France, and 100,000 didn't come back. I read in the New York Times this morning, only one veteran from that war remains alive in the States. Garrison Keillor said Saturday World War II was just World War I continued...and I do remember some history classes in college supported that notion. I have a friend who claims the continuous war of the Twentieth Century was about only one thing: oil.
Armistice Day became Veterans Day as Decoration Day became Memorial Day and we added "under God" to the Pledge of Allegiance all in the mid-1950s. A general for our president, the McCarthy Era, and the Cold War geared us up to be tough guys. Now we rattle our sabers anytime we feel like it, no one tells us what to do, and we say anything we want to the other nations. The other day Bush told the Pakistani prime minister to take off his uniform because you can't be a military commander and the president at the same time. Huh?
I hear in Baghdad they're claiming the suicide bombings have lessened considerably. That's a good thing...and I suppose we should credit the "surge." But are the inSURGEnts all dead now...or running away into the desert? Or have they been redirected? Are they massing somewhere else? If so, I wonder where that could be? Let's see, what staunch ally of the United States has nuclear weapons but is teetering into instability? Where is there Emergency Control for the next 2 months until more great democratic elections will be held to celebrate freedom? Where are suicide bombings increasing? And where is Osama Bin Laden, dead or alive? The answers to these and other questions will be revealed in forthcoming exciting episodes---or maybe later today.
The Washington Post published an amazing article yesterday about Pakistan's nuclear arsenal...and just how secure it is.
http://www.washingtonpost.com/wp-dyn/content/article/2007/11/10/AR2007111001684.html?hpid=topnews&sid=ST2007111001833
And don't miss Frank Rich's column yesterday that includes concerns about Pakistan.
http://www.nytimes.com/2007/11/11/opinion/11rich.html
And love him or leave him, coincidentally a real old warrior died for Veterans Day: I like this obit on Norman Mailer out of Chicago.
http://www.chicagotribune.com/entertainment/chi-mailer_kellernov11,1,2721898.column?ctrack=1&cset=true
Love, as always, to you and the Blue Rock family,
Richard