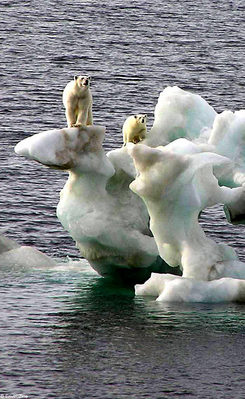 The timpanist plays upon a living being. The stars are bursting with their messages: Turn to a child for the star's announcement.
---Robert Aitken
Greed is the basic cause of misery. Free yourself of greed, and the mountains, rivers, and earth do not block the light of your eyes.
---She-Hsien
To enter one's own self, it is necessary to go armed to the teeth.
---Paul Valery
Why 2015? That is the year, dictated by consensus of the 2500 scientists whose work created the UN report on global warming, when further growth of carbon emissions on this planet must cease. Within 35 years from that date, carbon dioxide and other atmospheric polluting gases must be reduced by 50 to 85 percent to avoid killing as many as a quarter of the species on Earth.
http://www.washingtonpost.com/wp-dyn/content/story/2007/11/18/ST2007111800216.html
This was the announcement on Saturday, when the final portion of the IPCC (Intergovernmental Panel on Climate Change) study was released to the public by this group that already has won the Nobel Prize.
I try to be a patient man. I waited Sunday and I waited today. I expected lead items in newspapers and broadcasts in this country. Well...let's say I hoped for them. Certainly it is the case elsewhere in the world, where concern is at the forefront. One of the good things about Google News is you can see what makes news in the various nations of the world...and what that news is. At the moment you have to type "global warming" into Search to find anything about these stark pronouncements.
We have people campaigning for President right now. The New York Times reported today that in Iowa, a sixth-grader asked Mrs. Clinton if she had any views on global warming. The paper went on to consider whether the question had been planted in the student's mind. There was no mention of what the candidate replied.
http://thecaucus.blogs.nytimes.com/2007/11/19/a-real-question-about-global-warming/
Have we all gone mad?
Recently it has been the pattern in this country for a person elected (or otherwise achieving the office of) President to serve 2 terms or 8 years. If that continues, whoever ends up President in 2008 still may be there in 2015. Do any of these candidates have a plan for such an incredible challenge? Next month---that's NEXT month---President Bush will lead the United States delegation to the United Nations Conference on climate change in Bali. Last year around this time that man announced he was pretty sure global warming wasn't caused by anything consumers in the free market might be doing...like burning coal or oil. US News & World Report asked this morning Do we HAVE to have this guy representing us?
http://www.usnews.com/blogs/erbe/2007/11/19/bush-the-wrong-guy-on-climate-change.html
I listened pretty hard to my world today to see or hear if anyone seemed concerned about the IPCC report or global warming. It's going to be in the mid to upper 60s tomorrow and probably for Thanksgiving. People did remark on that...and sorta smile and shake heads. Ten years ago Dana and I were proud to go out to the garden and kick some snow off a little kale that was left to serve our smoked oysters on for Thanksgiving dinner. The other day people were telling me the crocuses and daffodils they planted in September are coming up already. What will it take to crash through all this denial?
If you care to catch up with the weekend news, there are a couple of significant and brief summaries of the report. Thankfully one will appear tomorrow in Science Daily, and here's a look at it~~~
http://www.sciencedaily.com/releases/2007/11/071119122043.htm
Another appeared in The Independent overnight, with the forboding headline A World Dying~~~
http://environment.independent.co.uk/climate_change/article3172144.ece