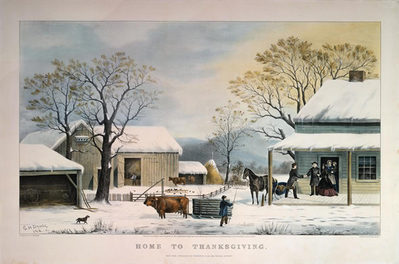 The painting by John Schutler is Home to Thanksgiving, published 1867 by Currier and Ives.
Space and Time! now I see it is true, what I guess'd at, What I guess'd when I loaf'd on the grass, What I guess'd while I lay alone in my bed, And again as I walk'd the beach under the paling stars of the morning.

---Walt Whitman

Even if our efforts of attention seem for years to be producing no result, one day a light that is in exact proportion to them will flood the soul.

---Simone Weil

There is no end to the opening up that is possible for a human being.

---Charlotte Joko Beck

I'm sure Americans gathered around their tables on Thursday, grateful for companionship and family...but uncertain how far the "commonwealth" spreads anymore. What we still can hold in common, even the values, seems up for grabs from all sides. Conservatives talk about compassion, but the world they live in resembles the cave and Hobbesian misery.

At more than a few Thanksgiving dinners, probably the name Scott McClellan was mentioned. He was the cute press link to the Oval Office for 3 years, dancing around questions daily. Much of what he had to do was keep things secret. We're at war and only Commander Decider can know...or the case is in litigation and it wouldn't be proper to comment...or Congress is investigating and we'll see what they find out. On April 21st next year a book by McClellan will be published, entitled WHAT HAPPENED: Inside the Bush White House and What's Wrong with Washington. Probably nobody would have noticed this coming event had not its distinguished publisher, PublicAffairs Books, put an excerpt bombshell on its website:

"The most powerful leader in the world had called upon me to speak on his behalf and help restore credibility he lost amid the failure to find weapons of mass destruction in Iraq. So I stood at the White house briefing room podium in front of the glare of the klieg lights for the better part of two weeks and publicly exonerated two of the senior-most aides in the White House: Karl Rove and Scooter Libby. "There was one problem. It was not true."I had unknowingly passed along false information. And five of the highest ranking officials in the administration were involved in my doing so: Rove, Libby, the vice President, the President's chief of staff, and the President himself."
http://www.publicaffairsbooks.com/publicaffairsbooks-cgi-bin/display?book=9781586485566&view=excerpt

The item really hit the news the day before Thanksgiving, and so there were whispers and hushed tones midst the dressing and drumsticks Thursday. What will happen? Will anything happen? Why do we feel like conspirators with such talk? Is this East Germany before the Wall came down..or is this the Free World? Why does the war machine roll on, looting the Treasury, robbing us blind? In a column on July 6, 2007, Joe Galloway asked why the Bush administration "looks remarkably more like an organized crime ring than one of the arms of the American government?" It must be fear that silences the nation. Cat's got our tongue.

Galloway published on the McClellan excerpt right away, and I hope you read it. During the Vietnam War, he served three tours in Vietnam for UPI, beginning in early 1965. Decorated for rescuing wounded American soldiers under heavy enemy fire during the battle at Landing Zone X-Ray in the Ia Drang Valley, he was the only civilian awarded the Bronze Star by the U.S. Army during that war. In 2000 he voted for Bush who promised to give a government "whose appointees would be honest, upright, fair and moral." Now he devotes himself to asking What happened?

McClatchy Washington BureauPosted on Wed, Nov. 21, 2007Commentary: Good riddance to them allJoseph L. Galloway McClatchy Newspaperslast updated: November 21, 2007 06:24:25 PM
http://www.mcclatchydc.com/homepage/story/21921.html

I mentioned the commonwealth in my musings, and it's not a term we use as much in the States as they do in the country to the North. Of course, the Common was central to every town in New England, and in many places still is an important gathering place for the people. When I travel in Canada, I feel a sense of community there that is more than the neighborhood block party we sometimes celebrate down here. As friendly as we get with neighbors nowdays, we don't forget that the leaves on my lawn drop off the tree that belongs to my neighbor...and so shouldn't he rake them up? Stuff like that. We were more as the Canadians have remained in the 1950s I think. There still was a sense that an uplifting of community, rather than just my private fortunes, will be good for us all.

I thought about this on Thanksgiving, and then again this morning when I read an excerpt from Thom Hartmann's new book Cracking The Code: The Art and Science of Political Persuasion. You probably know about Hartmann, but I was impressed with this description of him at Wikipedia:

"Hartmann is also a vocal critic of the effects of globalization on the U.S. economy, claiming that economic policies enacted since the presidency of Ronald Reagan have led, in large part, to many American industrial enterprises being acquired by multinational firms based in overseas countries, leading in many cases to manufacturing jobs - once considered a major foundation of the U.S. economy - being relocated to countries in Asia and other areas where the costs of labor are lower than in the U.S.; and the concurrent reversal of the United States' traditional role of a leading exporter of finished manufactured goods to that of a primary importer of finished manufactured goods (exemplified by massive trade deficits with countries such as China); Hartmannn argues that this phenomenon is leading to the erosion of the American middle class, whose survival Hartmann deems critical to the survival of American democracy. This argument is expressed in Hartmann's 2006 book, Screwed: The Undeclared War Against The Middle Class and What We Can Do About It. (Also noted: corporate deregulation and the end of enforcement of the Sherman anti-trust act. Consequent media deregulation leading to corporate media shifting the American consensus towards the acceptance of privatization, massive corporate profits -which causes the shrinking of the middle class.)"
http://en.wikipedia.org/wiki/Thom_Hartmann

In the excerpt from the new book, he seems to be talking a good deal about the traditions of America and how they are rooted in the notion of what we share in common~~~

Whatever Happened to 'We the People'?By Thom Hartmann, Berrett-Koehler PublishingPosted on November 23, 2007
http://www.alternet.org/rights/67944/?page=entire

Thom Hartmann's website has more excerpts~~~

http://www.thomhartmann.com/CrackingTheCode/index.htm