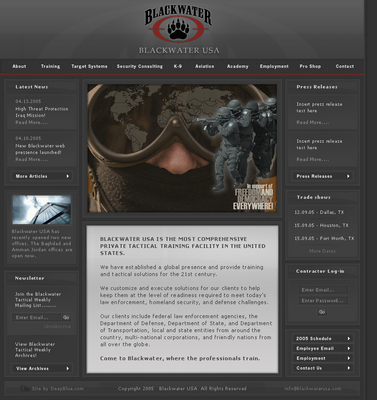 Nobody sees a flower---really---it is so small it takes time---we haven't time---and to see takes time, like to have a friend takes time.
---Georgia O'Keeffe
Let us be moral. Let us contemplate existence.
---Charles Dickens
We learn something by doing it. There is no other way.
---John Holt
Many of us here in the coal mining regions of Appalachia can hear Jean Ritchie's sweet voice in our imaginations by just reading her lyric in the title up there. Black water refers to the toxic sludge that kills all life in the creeks and streams near mining operations, particularly what's called mountaintop removal. Sometimes whole hillsides of the stuff falls down on top of properties owned by people for generations. Folks have been killed in those landslides, but there's little recourse since Bush made the previously banned practice legal 5 years ago.
So when I learn a good Republican Christian boy decided to name his private security company Blackwater, and stick it in North Carolina, I thought there must be some kind of---er---black humor involved. Maybe there is. Erik Prince was making the Navy Seals his career until his mother died and left him the family fortune. His sister was the chairperson of the Republican Party in Michigan, and wife to gubernatorial candidate Dick DeVos. Erik moved South, set up Blackwater, and also sits on the board of Christian Freedom International, a group helping "Christians who are persecuted for their faith in Jesus Christ".
http://www.christianfreedom.org/
This was 10 years ago, when Erik was 27. Now, we learn, "Blackwater is currently the biggest of the US State Department's three private security contractors. At least 90% of its revenue comes from government contracts, two-thirds of which are no-bid contracts."
http://en.wikipedia.org/wiki/Blackwater_USA
To be well connected thus seems the best way...and maybe the only way...to really get in to the true American liberty we call global capitalism. Papa Bush introduced it as The New World Order, but wasn't that a mite Roman Empire? So the following presidents just talk about the freedom and democracy of globalization. We know quite a few families have gotten very rich from all this, but many of the rest of us look at our tax bill and feel we're financing the whole thing. Are the returns worth it?
Economist Paul Krugman yesterday called global capitalism's need for companies like Blackwater a "Hired Gun Fetish."
http://www.nytimes.com/2007/09/28/opinion/28krugman.html?_r=2&hp&oref=slogin&oref=slogin
Tomorrow The New York Times Book Review section will offer up opinion on Naomi Klein's view of global capitalism. The work is called "The Shock Doctrine," referring specifically to CIA interrogation techniques, and is reviewed by Joseph E. Stiglitz, a university professor at Columbia, who was awarded the Nobel in economic science in 2001. His latest book is "Making Globalization Work."
http://www.nytimes.com/2007/09/30/books/review/Stiglitz-t.html?8bu&emc=bu
As a sort of footnote to how well the United States is managing its liberation of the globe, Jane Goodall this week warned of what many saw as the problem with alternate fuels based on corn crops and such. You want corn? Developers in Brazil will just plow down what remains of the rain forest and plant it for you.
http://www.planetark.org/dailynewsstory.cfm/newsid/44569/story.htm
Here are the full lyrics to Black Waters~~~
BLACK WATERS(Jean Ritchie)
I come from the mountains, Kentucky's my home,Where the wild deer and black bear so lately did roam;By cool rushing waterfalls the wildflowers dream,And through every green valley there runs a clear stream.Now there's scenes of destruction on every handAnd only black waters run down through my land.
CHORUSSad scenes of destruction on every hand,Black waters, black waters, run down through my land.
O the quail, she's a pretty bird, she sings a sweet tongue;In the roots of tall timbers she nests with her young.But the hillside explodes with the dynamite's roar,And the voices of the small birds will sound there no more;And the hillsides come a—sliding so awful and grand,And the flooding black waters rise over my land.
CHORUSSad scenes of destruction on every hand;Black waters, black waters run down through the land.
In the rising of the springtime we planted our corn,In the ending of the springtime we buried a son,In summer come a nice man, said, "Everything's fine—My employer just requires a way to his mine"—Then they threw down my mountain and covered my corn,And the grave on the hillside's a mile deeper down,And the man stands and talks with his hat in his handAs the poisonous water spreads over my land.
CHORUSSad scenes of destruction on every hand;Black waters, black waters run down through the land.
Well, I ain't got no money and not much of a home;I own my own land, but my land' s not my own.But if I had ten million thereabouts—I would buy Perry County and I'd run 'em all out!Set down on the bank with my bait in my can,And just watch the clear waters run down through my land!
CHORUSWell, wouldn't that be like the old Promised Land?Black waters, black waters no more in my land!
Source: Celebration of Life - Jean Ritchie, Geordie Music Publishing © 1971
YouTube has a video of her singing it, with pictures of the Appalachians~~~
http://www.youtube.com/watch?v=kFVdp1KJiqM