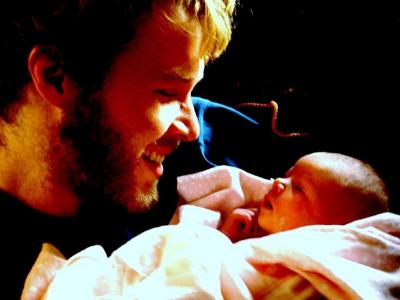 Trust shows the way.
---Hildegard Of Bingen
And those who were seen dancing were thought to be insane by those who could not hear the music.
---Friedrich Nietzsche
The invariable mark of wisdom is seeing the miraculous in the common.
---Ralph Waldo Emerson
I was sitting yesterday morning in the balcony with the rest of the choir at Good Shepherd Episcopal Church. In our robes from there each Sunday we sing the Introit, then hustle downstairs to process with the first hymn. It was about 10:30. Marsha Reilly was concluding the second organ prelude, John Ferguson's particularly mysterioso setting of O Come, O Come Emmanuel. That would be our entrance hymn too on this 4th Sunday of Advent. Suddenly my wife appeared next to us up there, urgent but smiling. "You became a grandfather about half an hour ago," she whispered. In the service a bit later, a prayer of thanksgiving went up from our congregation for the birth of Nina Marie.
Winter Solstice and Karen's labor had arrived at the same time, a little after 1 AM Saturday. The Cold Moon was nearly full. When the couple was sure her body and the baby were in agreement about the hour of beginning, quiet helpers were called to their little home. Well, Nina was sort of in agreement about it. She would turn her back on the situation eventually, and require at the last a sure hand to go in and turn her gently around for the final slide into the birthing pool. They were in the water by then, 24 hours had passed, and contractions were in the hours of intensity. Karen said yesterday each exhalation was a battle cry.
Dana, Ilona and I entered their living room of peace and silence at mid-afternoon. Jeroch was in a large chair, holding the baby as you see them here. Karen walked in, radiant and welcoming as always. We felt worshipful here. These young people have matured with the months of the process, guiding us and each other with trusting hands of love. We grandparents had come to know each other quickly and better. Karen's mother, the children's book author Erica Magnus, had flown in from LA a couple weeks earlier. Already we had become friends with her father, David Thomas of the OU film department. Karen's sister and her partner are here from the world of New York theatre. Has there ever been such a wondrous Christmas for all of us!
On Wednesday Jeroch had written a message to their many friends. The due date was the previous Saturday, and I guess all of us were on the brink of a considerable energy of expectation. His came out this way, and he titled it "fire spells and ancient wisdoms." I know he approves if we thus shout it like a father from the rooftops~~~
Happy Holidays Everyone!
Wow! What a wonderfully excellent group of people to be writing to! Just thinking of all of your gorgeous smiles and huge hearts makes me so excited to have been part of your lives How have you all been since I have last seen you? New projects, endeavors, adventures, breakthroughs, unraveled any mysteries or conspiracy theories lately? Well I am sure you all have been doing all those things. What a brilliant group of people. So positive and progressive, it is just amazing. Thrilling to the core.
These are all reasons why I am so excited to help bring a new child onto this planet right now. Gathering the Cosmic light together to brighten the hearts of all beings on this planet. For those of you wondering, Nina Marie, our little daughter, has decided it has not been the absolute most perfect time in the Universe to be born as of yet. But we expect her in the next couple of days. We are prepared and ready to deliver her at our little cabin in the woods right outside of town. We share 70 acres with a couple of other families, so we have the easily accessible privacy and space we need. It is a relatively small town, so all of our friends and even folks we have never even met before will walk up to us wanting to know if the baby has been born yet. Her due date was December 15. Nope. She knows when it is time to come. It is sweet, but everyday 4 to 9 people call asking "when, when when" and it starts pretty early. Don't worry we tell them, we will call you when it happens. Nina Marie is already a popular item, and if she is as cute as I think she will be, the world isn't going to know what hit it. She is a comet of love.
I would love to send out thank yous again to anyone who has contributed anything at all, even a warm thought or prayer, it has all helped. Karen and I are so grateful, we really feel the love and appreciation. Karen is doing very well through all the trials and she is being so patient. She looks amazing and has been doing yoga and swimming and walking throughout the pregnancy. She is able to connect with her ancient Goddess wisdom and I deeply respect that. I am so proud of her. She is ready to have this baby. I send love out to all the Mothers out there, thank you for nurturing us so much and loving us unconditionally. We will do our best to pass the love along.
So as we wait for our bundle of joy we think about Christmas next week and the New Year coming soon. I hope you all have peaceful holidays and that love is the gift you give and receive the most of. Eat delicious foods and give hugs to your Grandmothers and sing carols about Angels. 2008 is going to be a most phenomenal year. A year with more responsibility for everyone. Helping to educate everyone on how to care for the planet and ourselves. As we clean the planet we feel more connection with the spirit and learn more about love. I hope I have the honor of working with some of you during this period of reclaiming Mother Earth.
I would love to hear about your lives and what you have been putting your energies towards. Feel free to write back or call my new cell phone, which I got to stay connected for the birth. Happy Solstice as well. The shortest day of the year and then the light returns to us. And with the light we walk hand in hand into the future. I will write again to let you all know what Nina Marie's Mayan glyph is and her astrological sign too. She might be right on the cusp.
So much love and respect to you and yours. I hope you all feel the Universal Love deeply right now, and if not call me, we will see what we can do.
Peace through cooperation.
Jeroch, soon to be papabear