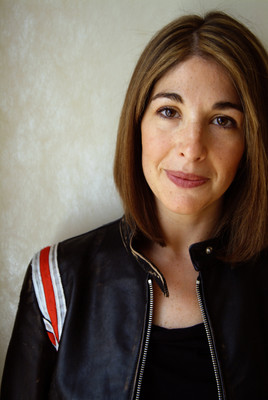 Photo of Naomi Klein by Andrew Stern.
I swear the earth shall surely be complete to him or her who shall be complete. The earth remains jagged or broken only to him or her who remains jagged or broken.
---Walt Whitman
The trouble is that you think you have time.
---Jack Kornfield
Clambering up Cold Mountain path,The Cold Mountain trail goes on and on:The long gorge choked with scree and boulders,The rushing creek, the dew-soaked grass.The mossy rocks are slippery, though there's been no rain.The pine sings, though there's no wind.Who can leap the world's tiesAnd sit with me among the clouds?
---Han-Shan
Let's say you just inherited a modest sum of $40,000. Instead of paying off debts, you decide to invest it---or buy something important for your home. You believe there's a climate crisis out there, and here's a chance to do something about it. Whether you want to make money off the situation or contribute in some small way, what would you do? Before you say you'd buy a solar array for your roof or check stock options in a windmill company, perhaps you should consider the gun industry. Which is the "better" investment? When the only water anywhere costs $3.25 a gallon, will some people have to fight over it? Will anyone come to get yours?
I know I'm not alone in thinking about this. Is there still time for human society and individual nations to prepare? Are people already doing it? Should I write on the Internet that I'm a peaceful man and have no guns in my house? Should I confess I have a huge stockpile in the basement? Would anyone protect my family if panic and riot break out over food and water? Would the Carlsons be treated like New Orleans or like Malibu? Is that kind of choice shaping up for our world?
One person who seems to think so is Naomi Klein. Over the last few months I'm seeing this woman's name somewhere nearly every day. Her 3rd book, The Shock Doctrine, came out in September, and is a best-seller. She's been on tour ever since. Almost immediately Amy Goodman scheduled a confrontation on her show, Democracy Now, between Naomi and Alan Greenspan, who also had a new book out. That transcript can be read here~~~
http://www.democracynow.org/2007/9/24/alan_greenspan_vs_naomi_klein_on
Apparently she was on Keith Olbermann's Countdown on MSNBC Thursday night, discussing Shock Doctrine as it applies to Iraq. I didn't see the program but according to a comment at Naomi Klein's MySpace Profile, Olbermann called the invasion and occupation "a corporate takeover...with guns."
What the Shock Doctrine describes is a torture technique, taught in detail in CIA handbooks, on how to regress a "detainee" to a childhood state. This technique, she charges, can be used on an entire national population...and has been thus used historically. She gives examples of takeovers in Indonesia and Chile and rapid, radical economic changes that ensued. Where American investors and corporations have profited she calls the process Disaster Capitalism.
The book itself is a shock because one does not have to imagine that some mastermind might plan out a series of assassinations of national leaders but should something like that happen over a short span of time, could not a political party or coalition of economic planners take advantage of national trauma and grief? In the last 45 years, has it happened here, in the United States? Once a person or population is thus reduced psychologically, can it be kept there? Can world resources be dominated thus by figures in this kind of control?
On Thursday Naomi Klein published her regular column in The Nation and The UK Guardian. Her writings are picked up by other news services and also Yahoo News. The column is entitled Guns Beat Greens: The Market Has Spoken. It describes where the big investment money is flowing right now. Ms. Klein was born in Montreal in 1970, and studied at the London School of Economics.
http://www.thenation.com/doc/20071217/klein
At the same time The Guardian reported yesterday the private security firm, Blackwater, is establishing a new 800-acre compound 8 miles from the US/Mexico border...where a lucrative opportunity exists guarding the fence. Blackwater currently trains 40,000 people a year at its main base in North Carolina.