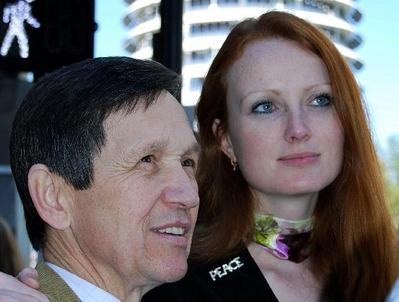 Man's main task in life is to give birth to himself.
---Erich Fromm
A thing long expected takes the form of the unexpected when at last it comes.
---Mark Twain
And this our life, exempt from public haunt,
finds tongues in trees, books in the running brooks.
Sermons in stones, and good in everything.
---William Shakespeare
Everyone likes him. People even smile at the mere mention of his name. Those I talk to, both liberal and conservative, say he seems to be right about everything. He has years and years of political experience. He started out even poorer than Lincoln, but as inspired and dedicated. So why doesn't he have a snowball's chance of a Presidential nomination? The rightwingnuts call him a socialist and crazy, not to be taken seriously. Maybe he's too short to be President. Maybe we're too frightened to have the courage of our convictions.
The breath of fresh air on AM talk radio named Ed Schultz put out an invitation to all the candidates, both parties, to come on his show for the entire 3 hours and answer phone calls. Kucinich showed up right away---and the show is in North Dakota! Nobody else has. The program was a revelation of serious discussion on every issue you or I could think of...and Dennis had answers. Maybe you can stream it somehow at Ed's site...and he rebroadcast it once.
http://www.bigeddieradio.com/
If you're reading this today, you may notice Kucinich will be on again this afternoon...and so will Barack Obama. It's on from 3 until 6 in the Athens area...770 AM.
But fairly quickly into that 3 hour interview, it became clear Dennis was not alone in the studio with Big Eddie. Elizabeth Kucinich was there too, as she usually is wherever he goes. A couple days before the show I got a phonecall from a friend in The Queens, who still does her reading in books instead of here. She said, "Have you SEEN Dennis Kucinich's wife?!" No, I said, I'm not sure I knew whether or not he was married. My friend said---and if you can say this with a Queens dialect it sounds better---"She's absolutely gorgeous!! She must be 7 feet tall with this long red hair down to her waist!" That was enough to nearly blind my imagination, but I persevered. I had seen Dennis Kucinich once in person, when he still was mayor of Cleveland...and while he seemed kind of cute then, I couldn't imagine him attracting someone so statuesquely beautiful. "And she's about 30 years younger," Belle said. Oh oh.
So on this interview, Eddie---also a redhead---couldn't seem to resist trying to get a word or 2 out of this curious creature by the candidate's side. Finally she said something...in a riveting English accent. She's from the UK? With all the distinguished bravado the Brits can muster, whenever they talk about anything, Elizabeth began to give her views on the topics. Soon the couple was talking as a team. I said to myself, "This would be the most perfect First Lady in the nation's history." Folks, she is positively brilliant!
But of course I don't want to be sexist. I've tried to stifle my interest in a potential First Lady, and continue only to talk about Dennis Kucinich. Like a lot of us, I suppose I secretly support Kucinich, but John Edwards is there too...and hasn't Biden been wonderful lately? So it's getting interesting...but here comes the cheer part: in yesterday's Washington Post is a long article about the Kuciniches, how they met, fell in love, and what's it all about. I wouldn't recommend this reading to you, except that I found it absolutely delightful. My congratulations to Libby Copeland, who seems to have gotten caught up in their energy and writes it for us just perfectly. This is a political article about falling in love~~~
http://www.washingtonpost.com/wp-dyn/content/article/2007/12/04/AR2007120402333.html?sid=ST2007120402470