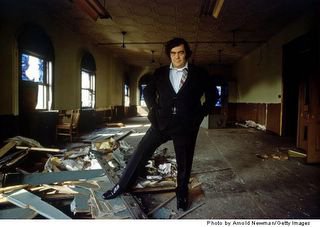 Jimmy Breslin, Pulitzer Prize winning journalist and author, poses for a portrait May 19, 1971 in Brooklyn, New York.

In order to arrive at that which thou knowest not,
Thou must go by a way that thou knowest not.
In order to arrive at that which thou possesseth not,
Thou must go by a way that thou possesseth not.
---St. John of the Cross
The more faithfully you listen to the voice within you, the better you will hear what is sounding outside. And only he who listens can speak.
---Dag Hammarskjold
Earth's crammed with heaven,
And every common bush afire with God.
---Elizabeth Barrett Browning
My good friend Quinty (Paul Quintanilla
http://www.lqart.org/
) sent out yesterday's column by Jimmy Breslin with this comment~~~
"What is poetry? The truth burning through lies? The sharp taste of reality? Here's Jimmy Breslin burning a whole forest of lies down."
For the sake of younger readers and folks from outta town, Wikipedia at least has this stub of a description of him~~~
Jimmy Breslin (born October 17, 1930) is an American columnist who has appeared regularly in various newspapers in New York City, where he lives. On November 2, 2004 he retired as a regular columnist from Newsday but stated his intention to continue writing. In his final Newsday column, Breslin incorrectly predicted a Kerry victory in the 2004 election.
In 1969, he ran unsuccessfully as an independent for New York City Council President allied with writer Norman Mailer running for Mayor, with the agenda of New York City secession as the 51st state.
He won the 1986 Pulitzer Prize for Commentary.
Among his notable columns, perhaps the best known was published the day after John F. Kennedy's funeral, focusing on the man who had dug the President's grave. The column was indicative of Breslin's style, which often highlights how major events or the actions of those considered "newsworthy" affect the "common man."
Breslin is the author of a biography of Damon Runyon (Damon Runyon - ISBN 044050502X) and several novels, the best-known of which is The Gang That Couldn't Shoot Straight (ISBN 0316111740).
COMMENTARY
War must be a local issue
Jimmy Breslin
November 9, 2005
The church was empty at dusk. You stood in the stillness and looked at the place, right there on the side of the altar, where Michael Bloomberg spoke over the casket of a fallen aristocrat of the city, Riayan A. Tejeda, Marine, dead in Iraq at age 26.
Bloomberg pronounced, "He died to keep the weapons of mass destruction out of the hands of ..."
You heard no more. He was up there in the presence of a gallant New Yorker and he spread a lie and for me it was the start of his campaign and it ended with me not voting for him last night.
He says of Iraq, "It is not a local issue."
This was almost two years ago at St. Elizabeth's Catholic Church on Wadsworth Avenue in Washington Heights, which is more than somewhat local.
By myself, I have been at the deep grief of another soldier's funeral in the Bronx, one in Ridgewood, another in Brooklyn.
If the kid who gets killed is local, then - the war is local.
This war continues without an official protest that would call out the will of the people of the City of New York and might count in a nation that by now realizes it has been the victim of a president who is a fake and a fraud and a shill and a sham and now is going around with the blind staggers.
Only the other night, in a television appearance with the opponent, Ferrer, Bloomberg was asked about withdrawing troops from Iraq and - heavens! - you can't do that. Why, that would mean that New York's fallen military would have died in vain. And why you could never say that about the three or four who would be killed on the day after that, and tomorrow and tomorrow.
They die in the splendor of bravery, the prayer of valor. And fall in vain because the government causes them to die in vain.
Around this great city yesterday, the day went into the heart of the night without excitement. There was an election for mayor and the streets should have been loud with the shrieks of people crying for your vote. Bloomberg last night finished spending at least $70 million to get re-elected and the money suffocated the election. That is not democracy. Every one of those dollars should form the seeds of a revolt.
He is the mayor in a time of National Alzheimer's, and New York, too, is stricken. We have Bloomberg silent on a war. And once in this state we had as senators at the same time, Robert F. Kennedy and Jacob Javits. Look at the citizenry here accepting as United States senators, Clinton and Schumer, who both supported the war. The coin has cheapened and no outcry is heard.
How can Mike Bloomberg be the mayor of this city and not try to put his voice and weight into saving lives?
Bloomberg follows the smirking, deadly lies of a president who had people getting killed for what? For oil, for Dear Old Dad, for a racist disdain for a guy in an alley with a rag on his head. Bush saw the rag but never noticed the gun the guy carried.
Last night, Julio Cesar Tejada, the dead Marine's father, stood in the swarms of people going past his building at 602 W. 180th St. He is 53 and stocky, with short black hair and a pleasant face. On the sidewalk next to him was the small, permanent grotto to his son. A photo. Flowers. Candles. Prayers in Spanish and English.
"How has it been?" he said. He patted his chest. "My heart fell apart. I cannot work. I spend all the days going to the doctor."
"The wife?"
He shook his head. "It is very bad for her."
He said he had to get the Con Edison bill paid. "They turn off the lights if you don't."
At the corner, a young woman, a college student, asked him about Bloomberg clinging to the war. Now I mentioned the speech at his son's funeral.
Julio shook his head. "I was too mixed up at the funeral."
He said then he was going to vote.
"For whom?"
He shook his head. "I don't know 'til I get there."
Copyright 2005 Newsday Inc.
http://www.newsday.com/news/columnists/ny-nybres094505071nov09,0,5025678.column?coll=ny-news-columnists
I found most enlightening this page of Breslin quotes...if you're in the mood for more~~~
http://www.brainyquote.com/quotes/authors/j/jimmy_breslin.html