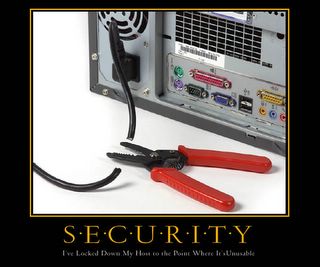 The image accompanying is from a 2004 calendar entitled A Year Of Agony, which was put out by Sourcefire, a network security company.
http://www.sourcefire.com/
The caption reads "I've locked down my host to the point where it's unusable."
Jump into salvation while you are alive. What you call "salvation" belongs to the time before death.
---Kabir
To be enlightened is to be intimate with all things.
---Dogen
God whose love and joy are everywhere can't come to visit unless you aren't there.
---Angelus Silesius
Our computer is the same one we had in 2004 (we're window-shopping eagerly for a new one) but in the meantime has developed so many knots in its processing that I feel we're losing this war almost as badly as the invasion of Iraq. For indeed what other appliance do you buy for your household that comes under actual attack from parties known and unknown the moment you connect it up to use? Say what you will about the malicious geeks out there, they're brought planned obsolescence to an art form. Of course neocons preach the consumer needs no help battling this army all by yourself in your tilty deskchair.
I spend at least a half hour a day doing routine maintenance on this thing. We have dialup but I can't blame all the weirdness in the machine on that. I've been struggling for 2 months to get my Norton scan to work properly again. I suspect a Microsoft Priority Update as the culprit...but maybe it's an undetectable worm picked up at MySpace. I seem to be spending more time worrying about what's infecting our computer than my own bodily health! But like that organism, it seems the more I try to do about it, the worse everything gets. Thus the illustration here.
Time Magazine has designated "YOU" as Man or Person of the Year...and the reason for that is how much time "you" spend on your computer and how blogging is affecting the world scene. Frank Rich has his opinion on that choice---and does a little review of other media we've been watching, including YouTube---in his Christmas Eve column. As usual blogger Rozius Unbound has posted the article for us. Heh heh.
http://roziusunbound.blogspot.com/2006/12/frank-rich-yes-you-are-person-of-year.html
But for the real scary scoop on that "personal" computer and what monsters may be inside, you have to go to PCWorld's review of Security Issues in 2006, just posted a few hours ago. Hot off your hard drive (and don't forget to clean that fan in the back occasionally) is the news you've been afraid is hitting you from all sides~~~
http://www.pcworld.com/article/id,128234-c,techindustrytrends/article.html
Happy New Year.