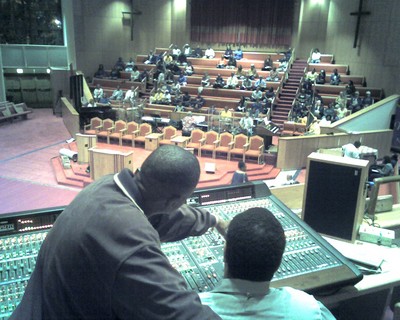 Chen-Lang approached Shih-Tou and asked: "What is the idea of Bodhidharma's coming from the West?""Ask the post over there," Shih-Tou said."I don't understand," said Chen-Lang."Neither do I," said Shih-Tou.Suddenly Chen-Lang saw the truth.

---Zen saying

There ain't no answer. There ain't gonna be any answer. There never has been an answer. There's the answer.

---Gertrude Stein

Let Him be only that He is and as He is, and make Him no otherwise. Seek no further in Him but subtlety of wit.

---The Cloud Of Unknowing

The response to Barack Obama's speech on Race In America has been all over the place. I thought the response would be almost as interesting and profound about us as the oration was about him. I needed some time to observe it and feel things settle inside my own being.

Nothing really confused me about the speech. I loved it. Some people know my own personal background with integration goes back to childhood---and I don't know why. My family didn't promote it particularly...and my mother discouraged relationships even with people who didn't have blue eyes, for Christ's sake! (I know some people from various races have blue eyes, but she didn't.) Once jazz entered my picture in the form of Benny Goodman's Sextet Session in 1947 or so, I knew integrated music was magnificent in every way---and represented democracy too.

I hadn't rushed right out to investigate Rev. Jeremiah Wright's sermons. I didn't need to. The man's name is Jeremiah, and I've read that book in the Bible. I grew into manhood hearing Malcolm X and Stokely Carmichael. I lived on Chicago's South Side during the summer of 1961, and trained for Freedom Rides. I knew there were streets there that, if I crossed over and walked on the other side, I could encounter Black Muslims who might insist I get back where I "belong." I'm not shocked by black rage and understand where it comes from. I understand white rage too, and resentment from any group that senses preference granted to another. But I like integration better, and celebration of differences.
My own experience of Chicago clouded my impression of what Mr. Obama's church might be like. I pictured something old and dark and maybe run down. I had heard yesterday that many professional African-Americans are members, but I figured even if the congregation was upscale it still probably was a humble facility. This morning I finally visited the website. The joke's on me.

Americans know what black worship is like. Everybody's at least seen The Blues Brothers I hope. It's a jumpin' joyous business! A preacher in there is a jazz solo to me. The guy takes off and goes. If he honks on that tenor, falls down on his back, still blowin' with his feet kicking in the air, that's the way it's done sometimes. And if you're into that way of expression, you know white players and red players and yellow players all do it too. And when it's done, everybody's let off steam---and hopefully nobody got hurt.
So if Barack Obama didn't like what his pastor said sometimes, why didn't he leave and go to some other church? I know there are people who stomp out of a church because they don't like the minister. That's happening in the Episcopal church---except we're too refined for anybody to "stomp." Episcopalians just sort of fade away...taking their checkbooks with them. But most people don't change churches because of that. They don't go to as many services maybe and wait for the guy to retire, but the church tends to be more important than the momentary management.

No, all of this hints the same old swift-boating we've probably become too accustomed to. Swift-boating to me means slipping some distraction, as Obama called it, into a political discussion and hoping it stumbles up the opponent. Michelle Obama reminded her audience here in Athens that her husband is an experienced veteran of Chicago politics. You don't emerge from a struggle with that power structure unless you have some skills rising above some dirty fighting. It seems to be so far Barack Obama has fielded every wild pitch. And when he's at the plate, he knocks 'em out of the park. That happened Tuesday. Representative John Conyers told talk show host Ed Schultz that his staff considered it the greatest speech since I Have A Dream.

Now I guess I'd better get myself to work and see what things are like there. Happy Spring!