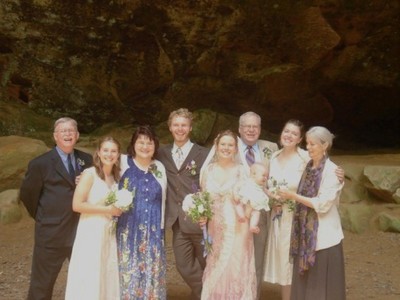 We're not a democracy. It's a terrible misunderstanding and a slander to the idea of democracy to call us that. In reality, we're a plutocracy: a government by the wealthy.
---Ramsey Clark, former U.S. Attorney General
I hope we shall crush in its birth the aristocracy of our moneyed corporations, which dare already to challenge our government to a trial of strength and bid defiance to the laws of our country.
---Thomas Jefferson
I see in the near future a crisis approaching that unnerves me and causes me to tremble for the safety of my country. As a result of the war, corporations have been enthroned and an era of corruption in high places will follow, and the money power of the country will endeavour to prolong its reign by working upon the prejudices of the people until all wealth is aggregated in a few hands and the Republic is destroyed.
---Abraham Lincoln
The photo, taken by Allison Zarcaro Walker last Saturday, is of the marriage of 2 families, the Carlsons and the Thomases.
Today happens to be the birthday of both Adam Smith, born in Kirkcaldy, Fife, Scotland (1723), and John Maynard Keynes, born in Cambridge, England (1883). These 2 pillars of the form of economics called Capitalism are for many in the United States the real Founding Fathers of our country. Smith said that market forces serve the public good, and that government regulation, for the most part, does not. Keynes wrote a book during the Great Depression that argued governments can put people back to work by spending lots of money, even if it means running a deficit. FDR tried it. Since Reagan, certainly continuing with the Bushes, and promised renewal by McCain, our country has received its direction from corporate boardrooms more than the Congress.
Somehow this seems the perfect day to reply to a very important email I received last month. It has been high in my priorities on this machine to do so, but the passion with which it was written needs to be matched by me...and that has taken some time to fuel up. The letter is from a friend and colleague at the school where we both work. I would love to identify him specifically, and maybe I will later if he gives me the high sign to do so. But I want to write this now and so I shall be vague. Besides his academic duties, this man coaches sports. Athletics is extremely important to him, almost as important as his family, living a healthy life and being as self-sufficient as possible. I've known him for 10 years, and I have to say that when it comes to my work with multi-handicapped kids I often turn to him, rather than psychologists and medical people, for an opinion on what challenges the student has to deal with. He can have a kid stand on one foot and tell me what processing is going on. So I trust him and we agree on a lot of stuff---though maybe not on whether theater or sports should get more funding.
Anyway, he replied to something I sent out about the environment and climate change. He said that increasingly his work, the chores at home, the plans for the future, all pale when he looks around at what humans have done, and continue to do, to this planet. He says a change in lifestyle is what's necessary, and few people I know are more serious about it. It's amazing to see someone make that change when they set about to do it. It's a huge commitment, and it might even mean moving somewhere else. People are starting to do that. But he knows he can't do it alone, and he looks to friends and family for support and cooperation. It's not always there. Other people we both see are not doing anything apparently. Many become hostile at the mere mention of the problems we see. They don't want to hear about it. It's not a topic for social discussion in a school.
He's a believer in school spirit, dedicated to and patriotic about the United States. He says, "I, too, feel a sense of 'change is a coming' and I aspire to be ahead of the curve when it comes. It is amazing to me how more people are not standing at the top of the mountain with lungs full of air ready to shout 'its time to act NOW!!!' Where is the leadership in this country? Of course we know where the lack thereof is. I think alot of people are waiting for the change in the WhiteHouse and are looking for someone of National Significance to get the ball rolling, to start making the sacrifices necessary to 'right the Ship'. I keep hope that it is not to late and that the 'American Engine' can lead the way again, but we need to shake this country to its foundation to do so, and the system seems very clogged with 'walk the liners and all will be O.K.'".
The series of storms we've had this week in Southeast Ohio may be something of a wakeup call even for the most hardened among us. People compare the tornadoes to ones we've had before, but no one ever has experienced 5 hours straight of ceaseless lightning and thunder. Skies never have looked more threatening around here...and yesterday in school there was a hush and little nervous laughter when we had the tornado drill. An hour later an announcement came for students not to leave their classrooms because of what was going on outside the building. During this entire year, administrators have had to figure out new guidelines regarding "calamity days," what they are and what to do.
The more conservative Americans feel that through hard work and heroic service you earn your piece of the pie. Once you have that piece you resent any interference from the "outside" that tells you change is necessary. You don't want to be told you can't throw your gum wrapper out the car window anymore, that the way you live may be bad, harmful, wrong. It goes against the grain. And yet, and yet...where did this attitude come from? What happened to the American who wants to help others? To give to a public cause and not just private charity? Was it Viet Nam that split us as a nation, totally and forever?
My friend, to whom this open reply is addressed, hopes this election season will be a rich time of renewal for our country. Whether we lead or control the world or not is not as important as who we really are. We have the chance this summer to review that---and in fact if the weather keeps this wakeup call going, we're not going to be able to avoid it. In the meantime, I enjoyed this poem this morning about what to do if you've been swallowed by a whale. Memories of Disney's Pinocchio came to me as I read it...but for those who wish to continue life-as-usual through it all, here's some good advice~~~
Things to Do in the Belly of the Whaleby Dan Albergotti
Measure the walls. Count the ribs. Notch the long days.Look up for blue sky through the spout. Make small fireswith the broken hulls of fishing boats. Practice smoke signals.Call old friends, and listen for echoes of distant voices.Organize your calendar. Dream of the beach. Look each wayfor the dim glow of light. Work on your reports. Revieweach of your life's ten million choices. Endure momentsof self-loathing. Find the evidence of those before you. Destroy it. Try to be very quiet, and listen for the soundof gears and moving water. Listen for the sound of your heart.Be thankful that you are here, swallowed with all hope,where you can rest and wait. Be nostalgic. Think of allthe things you did and could have done. Remembertreading water in the center of the still night sea, your toespointing again and again down, down into the black depths.
"Things to Do in the Belly of the Whale" by Dan Albergotti from The Boatloads.© BOA Editions, Ltd., 2008.
http://www.amazon.com/gp/product/1934414034/102-7592395-7815366?ie=UTF8&tag=writal-20&linkCode=xm2&camp=1789&creativeASIN=1934414034