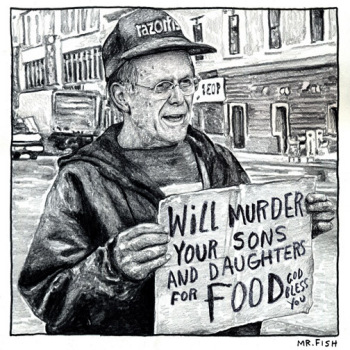 Nowadays there is no one capable of being dumbfounded.
---Soen Nakagawa
The fire-fly
gives light
to its pursuer.
---Oemaru
Wealth is the number of things one can do without.
---Feodor Dostoyevsky
Most of the post-election smoke cleared by this weekend here in the States---there still are some contests in contention or recount---and the weekend brought a wagonload of analysis, talking heads, menus of work to be done, and a lot of advice on all sides. With a month and a half before the Democrats move into Congress to take charge, Republicans are scurrying to cram through what they can of Bush's agenda. It won't be easy for them though...not as it's been these half dozen years. I found 3 articles this morning that might be of help and interest in the understanding of where this nation goes now. They follow this credit for Mr. Fish's devastating editorial cartoon.
Carl Hulse has a fine projection in this morning's New York Times on what we might expect from Congress through December~~~
--------------------------------------------------------------------------------
The New York Times
November 13, 2006
For Post-Election Congress, Extensive To-Do List Is Awaiting Action
By CARL HULSE
WASHINGTON, Nov. 12 — The Democrats won the midterm elections, but time has not run out on the Republican majority in Congress.
Despite devastating losses at the polls, Republicans will control the post-election session that opens Monday as lawmakers return to try to finish 10 overdue spending bills and other legislation that stalled because of pre-election gamesmanship.
Republican leaders have compiled an ambitious to-do list, hoping to dispose of energy legislation, a trade deal or two, a civilian nuclear treaty with India and other favored bills before turning over the keys to the House and Senate chambers to the Democrats in January.
Democrats have some measures they want completed as well, most notably the spending bills, to save them the added work next year.
President Bush, hoping to get the most out of the remaining days of a Republican majority, is pressing two contentious matters: legislation authorizing domestic wiretapping by the National Security Agency and the nomination of John R. Bolton as ambassador to the United Nations. And the Senate has scheduled confirmation hearings for Robert M. Gates to be the new secretary of defense to begin the week of Dec 4.
Members of both parties in Congress have all but written off the wiretapping legislation and the Bolton nomination, given the strong Democratic opposition and the impending power shift. It is also uncertain how hard Congressional Republicans will be willing to press Mr. Bush's more divisive issues. Some have expressed anger at his decision to remove Defense Secretary Donald H. Rumsfeld the day after the election, contending that earlier action might have cut Republican losses.
"The only things that can get done in the lame duck are things that have the consent of both sides," said Senator Charles E. Schumer, Democrat of New York. "You can bluster around all you want, but it is not going to happen. Anything controversial just by definition won't get done."
The White House still intends to seek approval of Mr. Bolton and the eavesdropping program, said Mr. Bush's press secretary, Tony Snow, but it is not doing so to be "provocative" in the wake of the election.
"Those are goals: an effective U.N. ambassador, also an effective way of going after terrorists," Mr. Snow said. "Those are both constructive and important goals, and we'll see how the lame duck works through it."
Besides tackling a legislative workload that may take Congress well into December, the parties will elect new leadership for the 110th Congress. House Democrats and Republicans will decide contested races for top positions.
Though they will not be sworn in until January, members elected last week will be on hand for the leadership battles and for freshman orientation, creating the potentially awkward situation of bumping into the lawmakers they defeated. It looms as a difficult period for the 6 Republican senators and more than 20 House members who will be casting their final votes in the last gasps of the 109th Congress.
"We lost some good friends on our side, and we are going to miss those folks," said Senator Mitch McConnell of Kentucky, who is expected to be elected the new Republican leader this week. "It will be sad."
Mr. McConnell said he thought that Senator Harry Reid, Democrat of Nevada and the incoming majority leader, laid out a reasonable agenda last week in a letter to Senator Bill Frist of Tennessee, the majority leader who is winding up his Senate career.
Mr. Reid urged Republicans to focus on the unfinished spending bills; a nuclear agreement with India; an offshore oil drilling bill; legislation to prepare for a potential flu pandemic and a biological attack; and a package of popular tax breaks.
"I think it is a good list, and if we can accomplish those things that would be a very productive lame duck," Mr. McConnell said, "and I like his attitude about it."
But the legislative agenda could shift quickly when lawmakers arrive with their own ideas of what should be on the table.
Senator Joseph I. Lieberman of Connecticut, elected as an independent, said Sunday on "Meet the Press" on NBC that he wanted Congress to take up the lobbying and ethics changes that died before the election. Some Democrats want to push changes in Iraq policy, and Republicans also expect Democrats to try to make early moves on domestic elements of their agenda.
In the first test of the bipartisan spirit that followed the elections, the House on Monday is set to approve a trade deal with Vietnam that Mr. Bush would like to have in his pocket as he travels to Hanoi this week for a regional trade meeting. But senators in both parties have raised objections to the deal that the administration is trying to resolve, and the fate of the trade pact is uncertain.
Copyright 2006 The New York Times Company
http://www.nytimes.com/2006/11/13/washington/13lame.html?_r=1&th&emc=th&oref=slogin
What many await are hearings into the activities of this most secretive of all American administrations. Nat Parry put together a laundry list for us at consortiumnews.com~~~
Bush's Belated Accountability Moment
By Nat Parry
November 12, 2006
After securing a second term in November 2004, George W. Bush was asked by the Washington Post why no one in his administration had been held accountable for the problems facing U.S. troops in Iraq. Bush replied dismissively, "We had an accountability moment, and that's called the 2004 elections."
The President echoed that sentiment two weeks before this year's Nov. 7 balloting, rejecting the notion that the midterm elections could serve as a check on his administration. Accountability, Bush said, is "what the 2004 campaign was about."
But it appears Bush may have spoken too soon. With the Democratic sweep of Congress, the White House finds itself confronting the likelihood of a more systematic and more rigorous form of accountability from congressional Democrats newly armed with subpoena powers.
Rep. John Conyers, who has been holding investigative hearings into administration wrongdoing from the Capitol basement because the Republican congressional leadership denied him a committee room, now stands poised to become chairman of the House Judiciary Committee.
Though handicapped in his earlier investigations, the Michigan Democrat unearthed and documented a staggering array of White House deceptions that led the United States into war, as well as evidence of other abuses such as torture, warrantless domestic surveillance by the National Security Agency, and erosion of civil liberties.
Constitution in Crisis
Conyers's 350-page report, "Constitution in Crisis," deals with the so-called Downing Street Minutes, which revealed that the Bush administration was "fixing" the intelligence on weapons of mass destruction to justify a pre-ordained policy of war against Iraq.
The "single overriding characteristic running through all of the allegations of misconduct … has been the unwillingness of the Bush Administration to allow its actions to be subject to any form of meaningful outside review," the report said.
"Not only were 122 Members of Congress unable to obtain any response to their questions posed regarding the Downing Street Minutes," the report goes on, "but neither the House nor the Senate has ever engaged in any serious review of the facts surrounding the NSA domestic spying programs."
That dynamic could change with the new make-up of Congress. Not only will Conyers be chairing the Judiciary Committee, but Henry Waxman, D-California, will be taking over the House Committee on Government Reform.
Complementing Conyers's investigations into pre-war manipulations of intelligence have been Waxman's investigations into administration favoritism toward Halliburton, which was formerly run by Vice President Dick Cheney.
The Texas-based company has profited handsomely by securing no-bid contracts for everything from rebuilding in Iraq, to supplying U.S. troops with food, to repairing government facilities damaged by Hurricane Katrina, to building detention facilities in the U.S. [For more information on the latter, see Consortiumnews.com's "Bush's Mysterious 'New Programs.'"]
According to an analysis by Sen. Frank Lautenberg, D-New Jersey, these no-bid contracts have contributed to the value of Cheney's Halliburton stock options rising by more than 3,000 percent. In 2005, Cheney's stock options increased in value from $241,498 to over $8 million.
"It is unseemly," noted Lautenberg, "for the Vice President to continue to benefit from this company at the same time his administration funnels billions of dollars to it."
Another issue that could be explored by Waxman's committee is the content of the Energy Task Force meetings during the early days of the Bush administration. Though ordered by a federal judge to release the task force records completely, the administration heavily redacted the 13,500 pages of documents.
Before turning the records over to the Natural Resources Defense Council as ordered by the judge, the administration removed extensive portions of information. "Some pages were empty," said the NRDC. "Whole strings of correspondence were stripped to just a few words."
Nevertheless, the records revealed that energy industry lobbyists played a pivotal role in developing the administration's national energy strategy, and actually wrote much of it themselves.
"The administration sought the advice of polluting corporations early and often and then incorporated their recommendations into its policy, sometimes verbatim," according to the NRDC.
Oil Fields
Though most attention on the Energy Task Force has focused on the perceived impropriety of oil companies dictating national energy policy, another concern is that the energy companies may have influenced the administration's decision to invade Iraq.
In 2004, reporter Jane Mayer disclosed a National Security Council document dated Feb. 3, 2001. It instructed NSC officials to cooperate with Cheney's Energy Task Force, explaining that the task force was "melding" two previously unrelated areas of policy: "the review of operational policies towards rogue states" and "actions regarding the capture of new and existing oil and gas fields."
Mayer's discovery suggests that the Bush administration in its first days recognized the linkage between ousting the likes of Saddam Hussein and securing oil reserves for future U.S. consumption. In other words, the Cheney task force appears to have had a military component to "capture" oil fields in "rogue states." [For details on Mayer's document, see The New Yorker, Feb. 16, 2004.]
The NSC document reinforced allegations made by Bush's first Treasury secretary, Paul O'Neill, who described a similar early linkage between invading Iraq and controlling its vast oil reserves.
In Ron Suskind's The Price of Loyalty, O'Neill described the first NSC meeting at the White House only a few days into Bush's presidency. An invasion of Iraq was already on the agenda, O'Neill said. There was even a map for a post-war occupation, marking out how Iraq's oil fields would be carved up.
O'Neill said even at that early date, the goal of invading Iraq was clear. The message from Bush was "find a way to do this," according to O'Neill, who was forced out of the administration in December 2002.
Combined with the Downing Street Minutes, O'Neill's account provides substantial evidence that the Bush administration had decided early on to invade Iraq, and simply decided on weapons of mass destruction as the most convenient pretext for war.
Words of Caution
Another investigation-worthy topic about the run-up to war is how the Bush administration dismissed and rejected words of caution from knowledgeable sources inside and outside the U.S. government.
Although many Bush defenders now claim that no one could have foreseen what a disaster the war would turn out to be, there were those who urged caution before the invasion, including members of Bush's own administration.
Brent Scowcroft, national security adviser under George H.W. Bush and chairman of the Foreign Intelligence Advisory Board under George W. Bush from 2001 to 2005, said a strike on Iraq "could unleash an Armageddon in the Middle East."
Also, retired Gen. Anthony Zinni, who served as a Middle East envoy for George W. Bush, warned in October 2002 that by invading Iraq, "we are about to do something that will ignite a fuse in this region that we will rue the day we ever started."
America's closest ally in the invasion, the United Kingdom, also had strong reservations. Although publicly British officials supported Bush's calls to forcibly "disarm" Iraq, behind the scenes, they worried that the war was poorly conceived, possibly illegal and potentially disastrous.
Internal government documents disclosed in 2005 by British journalist Michael Smith indicate that British officials foresaw a host of problems, including weak intelligence on Iraq, lack of public support for war and poor planning for the aftermath of military action.
The investigations by John Conyers and Henry Waxman – both armed with subpoena powers – could connect the dots linking Cheney's Energy Task Force, oil companies, Halliburton, pre-war deceptions and poor post-invasion planning.
The results of that investigation might shock the American people, adding to public pressure for impeachment.
Off the Table?
Though incoming House Speaker Nancy Pelosi has declared impeachment of Bush and Cheney "off the table," it's unclear what would happen if the White House chooses to stonewall congressional oversight or if investigations turn up damaging evidence of grave abuses of power.
Already, there are those such as former Nixon administration counsel John W. Dean who argue that Bush-Cheney's crimes are worse than Richard Nixon's and are grounds for impeachment.
There is also a fledgling grassroots movement for impeachment that could gather force in the coming months, emboldened by the Democratic victory. In Philadelphia, activists, lawyers and a former member of Congress held a forum this weekend to launch a new movement for impeaching Bush and Cheney.
Pelosi's own constituents in San Francisco voted decisively on Election Day to endorse Bush and Cheney's removal from office. Proposition J, which called for impeachment, passed with the 59 percent of the vote.
In his presidential news conference the day after the election, Bush was asked if he was "prepared to deal with the level of oversight and investigation that is possibly going to come from one chamber or two in Congress?"
Bush replied that the Democrats "are going to have to make up their mind about how they're going to conduct their affairs."
If it is left up to the likes of Conyers and Waxman, who seem to have already made up their minds, Bush might finally learn what an "accountability moment" really means.
http://www.consortiumnews.com/2006/111106a.html
Reference links are in the text at the original article.
Finally, we have a rejoinder to all these goings on from a neocon. Joshua Muravchik is an author and a scholar at the American Enterprise Institute for Public Policy Research. Educated at City College of New York and Georgetown, he's one of those interesting characters who abandoned the socialist left in the early '70s, and went way right. In this article, entitled "Operation Comeback" he sketches the strategy the neoconservative movement should attempt at this point---including the bombing of Iran before Bush's term is finished. This man's thinking on how to save the neocons is not to be ignored!
http://www.foreignpolicy.com/story/cms.php?story_id=3602&page=0