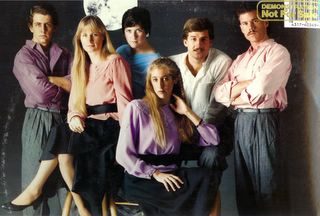 In this photo from a rare LP are (l-r) Jason Smith, Michele Weir, Mary Schmid, Sara Jennison, Joe Finetti and John Paddock: The P.M. Singers (1984, corrections welcome)

Time is simply God's way of keeping everything from happening all at once.
---Anonymous
No, no, you're not thinking, you're just being logical.
---Niels Bohr
The most important thing in music is what is not the notes.
---Pablo Casals
About 20 years ago I learned something was happening in a kind of music I like, but it wasn't until yesterday I found out what it was. You'd think in this day of instant communication I could have done better than that, and probably were I a musician I might have known more or sooner. Some of my most important lessons have dawned slowly I guess, and that's OK. It makes aging tolerable.
People who know me pretty well realize I've always liked singing groups...especially ones with close and intriguing harmonies. I've never been a singer though---except for a couple of unique occasions when I got talked into something. But a year ago my wife and a conductor ganged up on me and I've joined a choir. Look, I'm at the age when a guy should do everybody a favor and stop singing, but of course I seem to live a lot of life backwards and so suddenly I'm learning more about group vocalizing.
So on with the story: back 20 years I understood the vocal groups I liked (The Four Freshmen, The Hi-Lo's and even some Beach Boys) were pretty much past their prime and it was the end of an era. There was a group around called The Manhattan Transfer whose repertoire tried to cover everybody from The Pied Pipers (who had the breathtaking Jo Stafford singing lead---and Frank Sinatra sometimes adding a high baritone) to Lambert, Hendricks and Ross with some doo-wop in between, but clearly there wasn't much of an audience even for them...except when they made a disco hit out of the theme from Twilight Zone. But I ran across an LP in a cut-out bin by some people called Phil Mattson and the P.M. Singers that suddenly perked up my musical life
.The record was on a label called Doctor Jazz that just had tanked in 1986, despite the fascinating and skillful production of afficionado Bob Thiele. We jazz fans unfortunately are used to recording companies that start up and go down faster than it takes to get the records into a shop downtown. This item's title was Setting Standards, the 6 young people on the cover looked irresistibly fresh and healthy, and the selections included Body And Soul, a song written by Joni Mitchell, Richie Cole's New York Afternoon, and Thad Jones' lovely instrumental, A Child Is Born. For a couple bucks I had to find out what was going on.
The set turned out to be one of my favorites, especially the words someone had set to and the performance of A Child Is Born...which still is so moving tears come to my eyes. The piece is pretty much a capella, except for an occasional piano chord and tinkle...but the P.M. Singers' intonation is so perfect, it made my hair stand on end. The cover had almost no information about who these people were, but I assumed Phil Mattson must be one of them and I picked out a guy who seemed to be standing commandingly in the picture. There were no liner notes and all the credits said was Mattson had arranged the whole thing---except A Child Is Born, which had been done by somebody named Michele Weir. Their version of Body And Soul was the same Manhattan Transfer had on their Extensions album from 1979, and I assumed this one was just an OK cover.
Slow forward now to an email last month from my college buddy, Don Frese, over in Maryland. He writes he's just sprung a bundle for a 5 CD set that he knows I'd love so much he's ordered another one for me. Watch for a package from some place in California, he says, and let him know if it gets there. This guy's a collector too, so I'm lickin' my chops for a couple days. When it arrives, inside is a highly coveted collection of highlights from a 4 day festival in 1991 to honor the career of Stan Kenton. Practically everybody who'd ever been in a Kenton band and still could hold a horn---and some who couldn't---were there playing old and new or reminiscing with incredible stories of being on the road.
So of course, it's wonderful and I'll be forever grateful---but when Don wrote back he wanted to know what I thought of the vocal version of Intermission Riff. I hadn't gotten that far through it, so I went into Volume 4. Well, it was a choir of 13 singers who somehow managed, with the inevitable help of a trombone or 2, to capture the sound and spirit of how the Kenton band did it every night. I spotted the leader's name---and thank goodness my memory for some things still is hanging on. It was Michele Weir. I knew I had seen that name somewhere...and went right to that old LP.
Google to the rescue! In the meantime, it turns out Michele has blossomed into one of the most respected vocal arrangers anywhere. She has a solo album celebrating that impeccable intonation by carrying only acoustic guitar accompaniment. But most of her website seems to advertise and praise the gifts of this Mattson guy. Finding anything about him turns out to be a bit trickier. There's one site that carries about a dozen of his CDs, most on the label of The School For Music Vocations (do I sense a pun?) which must be connected to the Southwestern Community College, because that name's on there too, over in Creston, Iowa...in whichever corn field that might be! I ordered a shopping cart full, including a reissue of the Doctor Jazz because my LP is pretty worn out.
I Google on after Phil Mattson, and yesterday found a Phd thesis by Sheryl Lynn Monkelien for the University of Nebraska in 2001. It's a very formal 182 pages and costs $30 to read...so I settle for a preview. The Influence Of Phil Mattson On Vocal Jazz Education In America: A Case Study. She says she ran across this guy when she got her first teaching job in a high school out on the prairie somewhere. Her assignment included the choral program, so she was going through the library assembled by her predecessor. The arrangements looked very strange to her and quite difficult. She was unfamiliar with any of this material, although apparently well prepared for her post. She went to the principal and made the comment that these charts didn't seem typical for a high school swing choir. The principal said, "That's because we don't have a swing choir. We have a jazz choir."
A JAZZ choir! What's that? She went back to the arrangements, noticed Mattson's name on some, and decided to look him up. Lo, he's giving seminars and intensives and stuff in Iowa, so she signs on for one. Another disciple is born.
Now look, I'm not a big fan of the word "guru," especially when it's used to describe anybody with a special knowledge for sale. But I have to admit guru seems to apply to Phil Mattson. First of all, he was not the good looking guy on the P.M. Singers LP. (Oh, Mattson's still good looking...but in a rather more weathered way.) In fact, apparently he wasn't among the singers at all. He's the keyboard player. He arranged Body And Soul for Manhatten Transfer, and it sounds like him playing there too. He also prepared the gorgeous I Remember Clifford on the Transfer's classic Vocalese album. Michele Weir was one of the P.M. Singers, which were nominated for 2 Grammies by the way during their brief existence, and is one of the beautiful people looking out of that cover art.
Phil Mattson has stayed afloat somehow during this trying era of arts privatization. (Don't worry, that's as political as I'm going to get in this.) Amazingly from out there in Iowa somewhere, somehow he's revolutionized choral singing...and mostly he's done it one kid at a time. He had a group that recorded before P.M. Singers that he called The Fanfairs. Of their 4 releases in the 70s on the Foothill label, one copy of A Tribute To Gene Puerling still exists at a rare record site. I'm fighting the temptation to spend the $25 for it. After the P.M. Singers, there doesn't seem to be another of his groups surfacing until 1995, when comes along VoicesIowa. They have a few releases available...and each one clearly has at least one moment of staggering ensemble brilliance. In 1999, he formed Vocalogy and recorded an album of The Sacred Choral Music Of Duke Ellington. Whether or not you knew there was any, I highly recommend it to anyone with an interest in choirs, jazz or otherwise. Mr. Mattson likes to work with 6 singers I guess, and that's what he's got here. He plays a lot of piano on this disc...and Duke would have loved it! If you're interested in learning more or finding any of this stuff, get in touch.