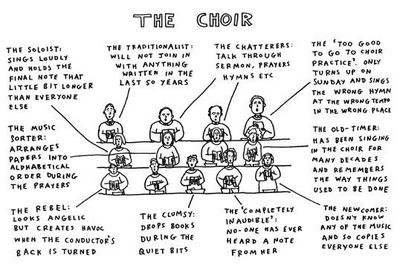 Knowledge comes but wisdom lingers.
---Alfred, Lord Tennyson
What is beyond, is that which is also here.
---Ancient Indian aphorism
The Emperor's chief carpenter, Ch'ing, once made a music stand so perfect that all who saw it marveled. When Lu asked him to reveal the mystery of his art, Ch'ing demurred, saying: "No mystery, your Highness, though there is something. When I am about to make such a stand, I first reduce my mind to absolute quiet. Three days in this condition and I am oblivious to any reward to be gained. Five days, and I am oblivious to any fame to be acquired. Seven days, and I become unconscious of my four limbs and body. Then, with no thought of the Court in mind, all my skill concentrated and all disturbing elements gone, I go into the forest to search for a suitable tree. It contains the stand in my mind's eye, and then I set to work."
---Chuang-Tzu
If you've ever been in a choir, particularly the church variety, you may appreciate Dave Walker's cartoon, from the UK's Church Times.
http://www.churchtimes.co.uk/blog_home.asp?id=50222
On Saturday, in San Rafael, California, there will be a national competition you may not be aware of. It's the 24th Annual Harmony Sweepstakes A Cappella Festival. Actually this is the final contest, as there already have been 8 elimination contests held in cities all over the country. Now the winning groups there are being flown to Marin Veterans' Auditorium for this big deal over the weekend. It's interesting there are hundreds of these groups involved, and probably not too many are of the barbershop variety anymore. As you can see from these photos and group descriptions, the music is all over the place
http://www.harmony-sweepstakes.com/
, but you can be sure of one thing: most of these participants have heard of Phil Mattson and The Foothill Fanfairs.
A couple years ago I stumbled into the best argument I know for writing personal stuff on the Internet. I merely related the coincidental sighting of a name of a musician on a CD set a friend generously gave me, with an LP I had bought years earlier. The name Michele Weir connected me to somebody name Phil Mattson, then I began to find out things about him, and finally I thought somebody somewhere might be interested in this so I wrote about it.
http://jazzolog.blogspot.com/2006_11_01_archive.html
What followed here, elsewhere I post, and in emails has been a continuous flow of messages from people who studied and performed with this great teacher. Most recently I heard from someone named Roy Turpin, who happens to be a therapist now out in California (isn't everybody?) and he has provided me a rare opportunity.
A month ago Gene Puerling died. His passing went largely unnoticed in the media, but those of us who love acapella singing know he formed The Hi-Lo's in the early 1950s, and then Singers Unlimited a decade later, and we mourned appropriately. Phil Mattson appreciated the Puerling genius, which was a style and technique completely original, and had the brilliance himself to begin teaching it to young people. Well, I suppose some folks must have thought he was crazy to attempt it...because certainly those of us who also loved Puerling thought such singing clearly was impossible---even where there it was on records. It really was impossible, because Gene began to experiment with multi-tracking and eventually had 4 singers sound like 8, then 12, or a whole choir. Phil's challenge may have been tougher, because he used real people...and they were kids.
Roy wrote that when he joined The Fanfairs, which was the name Phil Mattson gave his choir, he couldn't read music. This was over 20 years ago at a community college in California called Foothill. Today it is among the most highly credited schools in the country---and though Phil Mattson isn't teaching there anymore, you still can become a Foothill Fanfair.
http://www.foothill.edu/index.php
In fact the whole Fine Arts & Communication program at Foothill is awesome!
http://www.foothill.edu/fa/
The Fanfairs, as with many college groups like this, began to record what they performed, and there must have been 6 volumes or so. Roy said the group of 12 singers became so popular in the area that the number of performances they did interrupted his studies.
Quickly Phil decided to form a professional group of 6 graduates from the program, and this was the PM Singers which recorded initially for Bob Thiele's Doctor Jazz, and almost immediately was nominated for a Grammy. While Fanfairs material is very rare and costly, you still can purchase the 2 PM Singers releases on CD. Oops, I was going to send you to
http://www.a-capella.com/
, but I see they're out of stock. Well, how about Michele Weir's site then? She's probably still got some---and her schedule shows she might actually be around during May.
http://www.micheleweir.com/catalog/index.php?cPath=24&osCsid=6f3acb0a3484501e40f54605586cdac8
The LP I found originally now is called Night In The City.
One of the albums The Fanfairs created was A Tribute To Gene Puerling. Here, on 8 cuts, Phil Mattson took Puerling arrangements for both The Hi-Lo's and Singers Unlimited, and turned them into performance possibilities for 12 college students, each singing incredibly difficult dissonant lines. The result of course are gorgeous, huge "fat chords," as Roy calls them...and some positively heavenly singing. Roy still has all the LPs, and a couple weeks ago got a new turntable and began to transfer them to MP3. He sent me the Puerling album, which of course I've been wanting for a long time, and over the weekend it arrived. Gene Puerling came to Foothill College to be involved in the project, taught some workshops, became friends with Phil, and wrote the liner notes. Here's what he said~~~
"The Fanfairs are responsible for setting quality performance standards which vocal jazz ensembles across America are following today. Each member of The Fanfairs is a full-time music major at Foothill College... All study applied voice as well as an instrument. In addition, all members gain experience performing para-professionally as soloists, arrangers, and teachers...
"My thanks to the talented Fanfairs for their on-going commitment to high quality performances in person and on this record. It goes without saying, that their dedicated conductor, Phil Mattson, is certainly one of the prime reasons for the success of this great group, and indeed, for the whole exciting field of vocal jazz.
Carry on!
Gene Puerling"