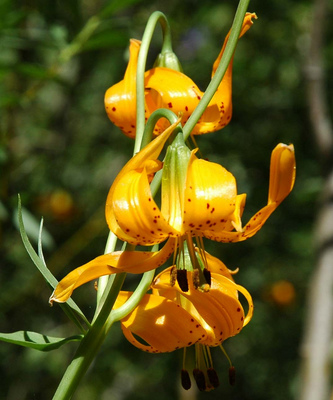 No more "evidence" of collapse is needed; it's happening here and now and with dizzying speed. I no longer feel a need to "convince" anyone; I'm simply sitting back and watching the inevitable unfold, and as I report the daily news, I can scarcely keep up with the events that have turned prophets into historians.

---Carolyn Baker, historian and psychoanalyst
We Bring Democracy To The Fish

It is unacceptable that fish prey on each other.
For their comfort and safety, we will liberate them
into fishfarms with secure, durable boundaries
that exclude predators.
Our care will provide for their liberty, health, happiness, and nutrition.
Of course all creatures need to feel useful.
At maturity the fish will discover their purposes.

---Donald Hall, from White Apples and the Taste of Stone. © Houghton Mifflin Company, 2007.

The more clearly we can focus our attention on the wonders and realities of the universe about us, the less taste we shall have for destruction.

---Rachel Carson

The news about climate and economy are so disturbing every day, that even people who never talk to me about current affairs are doing so now. People acknowledge impending disaster and don't know what to do. What is there to do? Are we doomed?

This must be brief this morning, as I have taken so much time to read. But among the first articles to show up was something Carolyn Baker sent along to subscribers during her fundraiser. It's from a free magazine in Southern California apparently, which is called HopeDance. I couldn't find it at the actual site so I don't know when it was written. It is lengthy but it leads one through the "syndrome" of waking up from this lifestyle of convenience most Americans anyway have fallen into over the last 50 years. It's not impossible and in fact it ain't even so hard. Take the time and you'll feel better at the end~~~

Beyond that, the news is more scary than ever. Hopefully Paul Krugman's column yesterday already has been recommended to you. He explained what's happening to the price of grain and why~~~

For those climate change skeptics who advocate the cosmic ray theory, scientists Sunday from Lancaster and Durham Universities offered proof the theory isn't correct, and it's carbon emissions after all~~~

Even worse, James Hansen, head of the Nasa Goddard Institute for Space Studies in New York, said yesterday even our most extreme goals for carbon reduction aren't good enough. He lays out what he projects now~~~

And the World Health Organization put out its predictions yesterday about how climate change will bring new outbreaks of disease and death. In fact, as surely you know, it already is happening~~~

Time to get busy...with that first step you can take in this Dance.