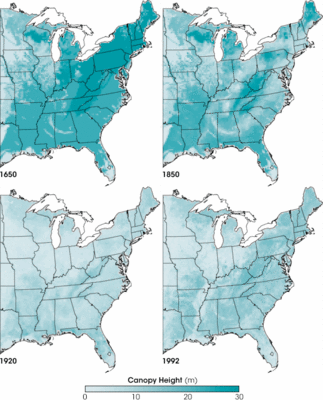 "This series of maps shows how much the landscape of the eastern United States changed between 1650 and 1992. The maps depict canopy height, the height of the tallest continuous layer of vegetation. In 1650, before colonization, most of the eastern United States was covered in tall forest, shown in dark blue-green. During the next 200 years, the forest disappeared, particularly in New England, the mid-Atlantic, and parts of the Midwest. By 1920, the tall forest was entirely gone, replaced by cities and farms. During the latter half of the twentieth century, the forest began to regrow, but the overall canopy remained much shorter than it had been before 1650. The images are based on a reconstruction of land cover made from records ranging from 1850 census data to modern satellite measurements."
http://earthobservatory.nasa.gov/Newsroom/NewImages/images.php3?img_id=17913
If one could understand a flower as it has its being in God---this would be a higher thing than the whole world!
---Meister Eckhart
A root is a flower that disdains fame.
---Kahlil Gibran
The sound of water says what I think.
---Chuang-Tzu
Are there too many of us? If the world's population of humans has doubled within just a portion of my lifetime, is it cause for alarm? Will God provide? Will Nature take its toll? If great masses die---and continue to die...and are predicted to die, do I shrug in hiding or subconsciously with the thought "There are too many anyway"? Do rich men plot war, famine and drought to eliminate dangerous overpopulation? Who dies? Who lives? Who decides? Does money decide?
Surely I'm not alone in finding discussion of every major problem we face in this country and in this world eventually boils to how many of us there are. George Monbiot wondered in The Guardian on Tuesday why we don't talk about this, and a great flurry of comments has followed. "I cannot avoid the subject any longer. Almost every day I receive a clutch of emails about it, asking the same question. A frightening new report has just pushed it up the political agenda: for the first time the World Food Programme is struggling to find the supplies it needs for emergency famine relief. So why, like most environmentalists, won't I mention the p-word? According to its most vociferous proponents (Paul and Anne Ehrlich), population is 'our number one environmental problem'. But most greens will not discuss it."
http://www.guardian.co.uk/comment/story/0,,2248419,00.html
In my opinion, we're silent because it's a moral question. And there's been silence for 50 years...except for occasional explosions about abortion and birth control. Laws are passed and opposed with vigor, but no resolution in the mind of the world. Take it from me, who works in public schools, a great war has been waged in the US over what to teach kids about sex and how. Without much opposition the people who teach sex in the classrooms, and during Bush with federal threats of funding cuts to enforce the morality, have frightened students with huge slides of sexually transmitted diseases. They've referred to a few fertilized cells in a woman's body as a "baby," and they refer to that woman as Mother. They've shown figures from textbooks on an overhead projector that could grow into anything from a stringbean to a gorilla, and they've said, "I know it doesn't look like a person, but that's a baby just like you and me."
Young American adults in their 20s were taught since grade school that if you're pregnant but not ready to parent for the rest of your life, you have it anyway and put it up for adoption. No mention has been made of terminating the pregnancy...and under Bush, again, with threats about funding. My daughter, who is 16, was taught "sex education," and one year in middle school in 3 different classes in a single semester, and not once was she told about birth control...except wait until you're married. How many movies came out this year, and very good ones, about pregnancy and having the baby anyway? And that's in the United States. What do young people learn in Kenya, in Iran?
I say it's morality...and it's clearest expression is Catholic. It goes like this: God creates all life and that makes creation and life Sacred. No argument there. If a person seeks to prevent that gesture, that gift, it is tantamount to rebelling against the Will of God. That is sin. To put some "protective" tissue, like a condom or a diaphragm, between the Will of God and a female womb is a sin. A pill or some other technique to prevent God's Will from having its way is also a sin. As long as that teaching persists from any Great Religion, population control itself is a sin.
But it gets worse. Once God's will has penetrated an ovary, the argument starts about when Life begins. Now we're proceeding from morality into regulation and law. Does life begin with penetration or with a beating heart? To stop a beating heart by surgery or some other means is aborting birth but is it murder? Does a fetus have rights? Are abortionists murderers? Should they be arrested, tried, executed?
For me all of this thinking is absurd. Many of us males remain quiet however because we've been told only women truly can understand these questions. Having funded an abortion in the autumn of 1962, in Massachusetts where the procedure was illegal, I claim a bit of understanding. My friend, a girl not pregnant by me, needed the money to go to another state and couldn't tell her parents, who were Catholic. Her boyfriend could afford some of the money, but I provided the rest. This was a down-the-narrow-street, up-a-flight-of-stairs, onto-a-table abortion. There was a bed for some brief recovery afterwards. There was anguish. Her relationship with the guy collapsed. This is a situation where some might say she got what she deserved. Knowing that sweet friend and knowing what a wonderful woman she is today...with a great family and, good heavens, some 40 years of marriage, I would never agree with that kind of judgment about her. Instead, I always have rejoiced over the legalization of choice for a woman and a couple who are pregnant before they're ready. And to make that choice with dignity.
But back to the Will of God. People want to argue about when Life begins. Why presume it begins only after penetration? Why doesn't it begin when I see an alluring woman and I desire her? I'm the mighty man and that version of the Will of God seems pretty male to me. Why isn't the Will of God at work in a guy as soon as he desires a woman? Maybe it's God Who's at work in my loins. If that's the case, a woman who rejects my advances is a sinner too. A murderess preventing access to God's seed! It must be God's inspiration that brings me to write this essay. God's fingers are doing the typing. Gadzooks, I'm a prophet!
We need to tackle these ethical questions and be ready to go toe-to-toe with religions and denominations...and assemblies or whatever else the Evangelicals call themselves...and debate these propositions. We need political candidates ready to voice such problems out loud...and prepared to deal successfully with the consequences, which even may border on the violent. We have let this issue drag on, without addressing it, for a dangerously long time. Coincidentally also on Tuesday, Truthout's environmental editor, Kelpie Lewis, wrote a brilliant, well argued, and quite different defense of abortion. I urge you to read it.
http://www.truthout.org/docs_2006/012908R.shtml
I know any number of people who voted for Bush...not because they were voting FOR Bush, but because they were voting against abortion. And that meant voting AGAINST Gore. It was the single issue. They agreed with Gore about the environment 8 years ago, but they had to vote against abortion. And they aren't Catholic. I wonder if any has changed her mind. We're moving towards another election. It COULD happen again!