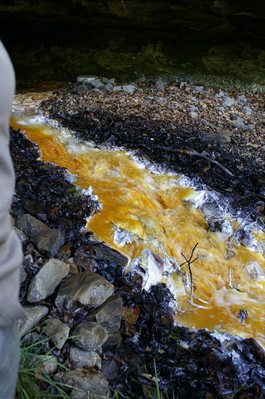 The photo, taken by my daughter Ilona, is of the toxic iron/aluminum mix constantly flowing out of an abandoned coal mine at Snow Fork, Ohio. Snow Fork is the most heavily polluted stream in the Monday Creek watershed. A look at what it takes to clean it up is at this pdf
http://www.dnr.state.oh.us/Portals/11/arc/3B/Farleypaper.pdf
.
There is pleasure in the pathless woods,
There is rapture in the lonely shore,
There is society where none intrudes,
By the deep sea, and music is its roar.
I love not man the less, but nature more.
---Lord Byron
In my middle years I became fond of the Way
And made my home in the foothills of South Mountain.
When the spirit moves me I go off by myself
To see things that I alone must see.
I follow the stream to the source,
And sitting there, watch for the moment
When clouds rise up. Or I may meet a woodsman;
We talk and laugh and forget about going home.
---Wang Wei
To establish ourselves amid perfect emptiness in a single flash is the essence of wisdom.
---Dhammapada Sutra
When the company moves on to---uhhh, greener pastures and meadows, it seems as if the taxpayer gets handed the bill for cleanup and care for displaced workers. I don't know who thinks this is such a great system. I know there's nobody cheerfully cleaning up any mess I may leave out from day to day. But then, I guess I don't provide wages to people for jobs that create my mess. I guess that must be the secret of success and wealth.
I suppose there are some companies that clean up the mess, and maybe even do it out of gratitude to a community that provided workers---rather than for a tax incentive. But the coal companies didn't in Appalachia, and the people left behind, many lured from homes elsewhere, sometimes struggle for generations to get back on their feet. That people eventually drink the water from Snow Fork is a testament to what can be done---but it's costly.
In other areas where coal was king around where I live, people are turning their legacies into historical projects. At New Straitsville, there's a cave where disgruntled workers huddled to form a union, and the United Mineworkers was born. Now there's a park and museum at the beautiful site. Inside you can learn about a misguided job action that purposely set a fire in the mine 125 years ago, and it's still burning today.
Up the road apiece at Shawnee, a place that once was a boom town is rebuilding. Grants are needed and slowly they are gathering. The architecture at Shawnee is unique and amazing, but the town is very poor and first the people need to become inspired. An astonishing theater at Shawnee is being restored, but it takes years and hundreds of thousands of dollars to do something like that. If it gets done it will be a showplace for the whole region. The owners run a giftshop across the street, and you should stop by.
These are a couple of the towns of a ravaged area becoming known as the Little Cities of the Forest...or of the Black Diamonds. Chunks of coal used to be called black diamonds when they were the main fuel of US industrialization. Since the State ended up with a lot of the land, Ohio has established state forests these past 70 years for recreation and hiking. The museums and restorations are coming along as people regain the pride they have for these towns, many of them built by the companies but now Home for 3 generations.
In neighboring Pennsylvania we hear about another approach. Erik Reece, who teaches at the University of Kentucky, has written about radical strip mining over the last few years. Most people in coal country know his name by now, because he has brought so many Appalachian problems to national attention. He has a new article in the current issue of the Orion magazine, and it's about turning the mess into art...which transformation takes quite a stretch~~~
http://www.orionmagazine.org/index.php/articles/article/460/
There's a photograph there to illustrate the article, and some nice comments. There's also a column of ways you can get involved in such restoration if you're interested.