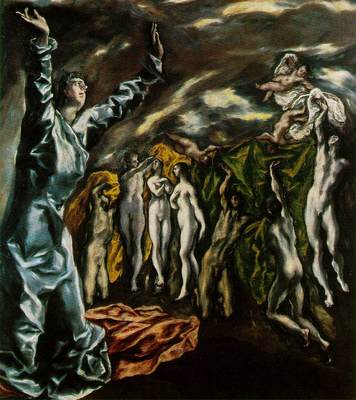 The Opening of the Fifth Seal of the Apocalypse, 1610-14
El Greco
When you meditate, invite yourself to feel the self-esteem, the dignity, and strong humility of the Buddha that you are.
---Sogyal Rinpoche
The violets in the mountains have broken the rocks.
---Tennessee Williams
This year, yes, even this year has drawn to its close.
---Buson
I had a night of foreboding Monday night. No, it wasn't the champagne. In fact I went to bed very early. I felt it when I awoke around 3 AM, with fragments of a dream still flickering. People were coming up the hill, closing in...and I needed to decide whether or not to shoot. Rather a moot question, since I didn't seem to have any guns.
Maybe the wind, which by then was battering the house, had shaken me up. The cold front had arrived, bringing the snow from further west that fell yesterday. We expected about an inch, and I put down the potash before the relatives arrived for a Hungarian New Year's feast.
It couldn't have been the hospitality I enjoyed Monday noon at Kathy's remarkable home. She and her partner Constantine had invited a few people for a delicious lunch of soup, fresh bread, salad, deviled eggs, cheese and some Crumb's special crackers that I brought. The land is high on a hill of natural oak forest, with amazing outcroppings of huge boulders, possibly shoveled there by the glacier which chugged to a stop just north of there.
When Kathy first acquired the land, she found a cave among those rocks and there she lived until she could build a tepee, and eventually more comfortable shelter. What they have now is a model home, for me at least, that is self-sustaining and off-the-grid. You can see it here
http://www.broadwellhill.org
and go there to find out more if you're close by. There are more and more energy-efficient and alternative houses showing up around here. People move here especially to try their hand at living this way.
That was the purpose of our lunch and the 2 hours of conversation that followed. The people who come here are often fiercely independent. They don't know anybody here particularly and aren't that eager to get terribly involved. But maybe it's time we began to open up more to each other. Oh not a lot necessarily. Not some big organization with meetings and committees and all that. There are plenty of those...and more splintering off all the time. No, what we were considering was a loose network of support...in preparation for emergency, catastrophe, even apocalypse. Not your cup of tea for after dinner conversation? Now you know why I woke up troubled in the night.
If the few of us there, at least half seemed to have formal medical training, either in nursing or doctoring. Clearly they had branched out into other pathways, such as those of the shaman and midwife and into different kinds of bodywork and feedback. Constantine is interested in nutrition, growing and preparing food. While we all are fed up with the government's failure to provide care for the people in times of emergency, I still held up memory and hope for the citizenry to come to its senses and rebuild our society's responsiveness.
We came at the topic from 2 different but connected angles. Within the last decade the psyche of the nation has suffered 9/11 and Katrina. We are learning to live with attacks we call terrorism and the natural disasters perhaps caused by excessive carbon emission. We have federal Security agencies, lavishly funded, but strangely ineffective. Money is available, and obviously private contractors are out there getting it. But what of local communities? Are there groups downtown, politically appointed or otherwise, prepared with stockpiles of food and medicine...just in case? Are there evacuation plans?
What if there's a big earthquake? A series of hurricanes and tornadoes? What if Baltimore and Washington are flooded out by a sudden rise in sea level? We know that our town is designated as a "host" in the event of such a catastrophe. People will be told to come here---and maybe even given transportation. Is our town ready for this? What of all the WalMart people, a perfect herd of consumerism brainwash, who may not even think about what would happen if there's no gasoline or electricty for an extended period. Now you're on foot and hungry...and nothing stockpiled except your shotgun collection. Can we help those people? Can we count on any protection if matters become unruly?
What we were considering is whether among our individual friends and associates, there might be households that could share in emergency preparation. I can stuff my crawlspace with bags of rice and beans and some big bottles of water...but maybe one family could store rice, another beans, and somebody else canned goods. Within shouting distance of our house---across the "holler"---are 3 or 4 families whom I might be able to engage in this activity. Up the road apiece are a couple more places. We're talking about this kind of network...local to your neighborhood, whether in town or country. It means reaching out in ways maybe many of us haven't done in a while---or possibly ever.
When we closed out our gathering New Year's Eve, we sort of reflected on how we felt. I said it was cleansing and healing for me to talk together this way. Often at work and in casual conversation, people resist conversation headed in this direction. People seem in denial or ignorance or dependence on some outside power to come with the care. It was a relief actually to address this topic as the whole reason for getting together. But later---in the middle of the night---it came to me there is a lot of work to be done. And it's urgent.
Oh...nearly forgot: if you need some extra motivation to get started in your neck of the woods, I read something this morning in the new Old Farmer's Almanac. An English businessman named Sir Richard Branson has started the Virgin Earth Challenge. It's a contest to come up with an effective way to remove billions of tons of greenhouse gases from the atmosphere. First prize is 25 million dollars.
http://www.virginearth.com/