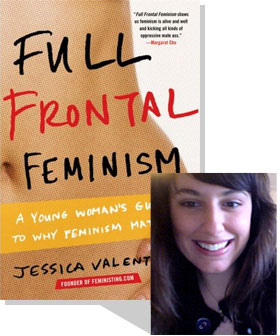 The picture is of author Jessica Valenti and her book of last year which was written especially for young women of college age. The image illustrates an interview with her at Salon
http://www.salon.com/mwt/feature/2007/04/24/valenti/
.
A man met a lad weeping. "What do you weep for?" he asked.
"I am weeping for my sins," said the lad.
"You must have little to do," said the man.
The next day they met again. Once more the lad was weeping. "Why do you weep now?" asked the man.
"I am weeping because I have nothing to eat," said the lad.
"I thought it would come to that," said the man.
---Robert Louis Stevenson
If you don't find God in the next person you meet, it's a waste of time looking for him further.
---Mohandas K. Gandhi
Drinking his morning tea
the monk is at peace.
Chrysanthemums.
---Basho
I've been trying to think how I got interested in civil rights. I know it was all the way back in early childhood, even though there was no "movement" to speak of then nor was my normal white family particularly involved in politics or social problems. What I think did it was a Walt Disney movie from 1946, which would have put me in 1st grade. Anything Walt made was OK, even though Mom worried about the scary parts in every one. To this day my worst fears can be traced to Snow White running and lost in the forest, or the disappearance of Bambi's mother, or especially the transformation of Lampwick into a mule in Pinocchio---all done with animated shadows...and sound. Neverthless, as a family we saw everything that came out, and so it was with a film called Song Of The South.
By '46, Disney was experimenting with live action and much less animation interspersed. Song Of The South is about a little boy, played by Bobby Driscoll, who lives on a big plantation in the South, although I don't remember that it was exactly slavery times. At any rate, he wanders one day into the area where his father's black workers live and meets a man known as Uncle Remus, played by James Baskett. The whole situation is a setup for Remus to tell the kid 3 of the stories about Brer Rabbit, collected in the writings of Joel Chandler Harris. Of course we shift to cartoons then, but it's the only animation I remember...except for the bluebirds when Uncle Remus sings the Oscar-winning song from the film Zip-A-Dee-Doo-Dah.
OK, if you're wincing at some thoughts of stereotype here, you're not alone. In the 1960s, the NAACP protested to Disney about the movie...and it was withdrawn. The song and the Brer Rabbit sequences still can be found here and there, but apparently the full movie only can be purchased in Japan. A friend of mine found a couple of copies of video from there up in Canada, and smuggled them in. As a result, I can report I've seen Song Of The South fairly recently---and had the chance to share it with my kids. What impressed me as a child was the racial interaction in the movie, how Remus and the boy came to love each other, and the social repercussions their relationship eventually produced. But isn't this strange---that the very movie I credit with developing an interest in me in the civil rights of American citizens, and people around the world, is banned as being prejudicial?
Well leaving all that aside, what happened back in first grade is I became open to friendships with people of other races and nationalities. At the same time we were beginning to learn folk songs in music class at school. My uncle, who was essentially a farmer and a United Brethren, got me started in stamp collecting. The whole world and its peoples were opening up to me and I loved it. But I was made aware of problems. A black school friend named Ronnie followed me home one day, and Mom gave me a talk about different people staying and playing with their own "kind." I didn't like that, and so a year or 2 later I went home with another black kid named Morris. When we got to Metallic Avenue, I saw there was no street there at all. In fact, 10 feet in front of the house, which had no door on it by the way, there was a tall wire fence...and 10 feet beyond that were the tracks of our town's major railway, the Erie. I guess I was pretty scared, and I went home.
Even more disturbing to the quiet 1950s lifestyle of the Carlson residence was my musical evolution into jazz and rhythm 'n' blues. I learned that jazz had started among black people in New Orleans at the turn of the century, traveled up the Mississippi with musicians employed on riverboats, and developed among whites in Chicago during the Roaring Twenties. Never mind that we now view this story as too simplistic, it got me to know who Benny Goodman was and his importance as a white man with an integrated music organization. By the time Martin Luther King was inspiring us college kids to hit the bricks in the late '50s, I was ready.
In the early 1960s we began to hear about feminism and a sexual revolution. The combination of the Civil Rights Movement and invention of something called a birth control pill---and of course the inequalities college-educated women were encountering in the workplace---brought us plunging into a whole new era. I found myself developing a sensitivity and consciousness that never would I allow my white maleness to be of some unfair advantage in my life. But by the late '60s it all became more complicated with a Black Backlash. Now I found I needed to be secure and strong in my white maleness, while ready to confess many crimes of history. Then there was a Feminine Backlash in the '70s---and I guess I just sorta dropped out for a while.
During the 1990s I found myself resentful of racial groups and women who seemed to be playing both sides at the same time. Like, there were women who boasted they despised "housework" and wouldn't do it because their careers took up their creative time---but always needed big, strong men to come in to "take care" of their maintenance problems. I began to see myself as a second-class citizen as payback for sacrifices in "social standing" I thought I had been making for 30 years. I see the predicaments differently now, and the fact today that Democrats seem to be supporting Obama and Clinton as potential presidential candidates feels really good to me. As a nation we're beginning to face many of the issues of race and gender that have been such a major part of my whole life. I like what's happening.
From now until the election The Nation magazine online is devoting its blog, called Passing Through, to a different writer each month. That blogger can post whatever he or she wants as often as desired. Kicking off the whole thing is somebody named Jessica Valenti. I hadn't heard of her, but her star seems to be rising quickly. The Nation has a lot of assertive women in it, so I'm not surprised Valenti is the first choice. During her first week she already is stirring things up, having written entries about political paternalism and Bush, women who put down feminism and the "sex education" they shove into public schools, and violence against females and what Romney knows about it. Miss Valenti uses very strong language when she writes (one might even say foul language, but I have to be careful) so comments coming back are pretty tough too.
http://www.thenation.com/blogs/passingthrough?bid=769
I guess I have to say I like her style. Since she's 29 I think, she represents a generation that's increasingly refreshing. She's grown up through all these "wars" and has her own version...and a message certainly that's helpful to me. Last April when her book came out, ELLE magazine, which I subscribe to, did a little feature on her. It concluded with the note that her site,
www.feministing.com
, was first to publish that the sale of vibrators is banned in some states. Miss Valenti wrote this is an issue "that overwhelmingly affects women. In Mississippi you can buy a gun without a state background check, but you can't get the Rabbit. How f--ked is that?" Yeah, wake us all up Jessica!