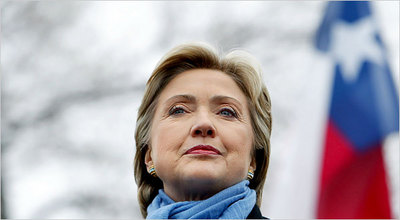 We must learn to be still in the midst of activity and to be vibrantly alive in repose.
---Indira Gandhi
If we knew that tonight we were going to go blind, we would take a longing, LAST real look at every blade of grass, every cloud formation, every speck of dust, every rainbow, raindrop---everything.
---Pema Chodron
An adult is one who has lost the grace, the freshness, the innocence of the child, who is no longer capable of feeling pure joy, who makes everything complicated, who spreads suffering everywhere, who is afraid of being happy, and who, because it is easier to bear, has gone back to sleep. The wise man is a happy child.
---Arnaud Desjardins
The photo of presidential candidate Hillary Clinton, taken by Melanie Burford for the Dallas Morning News, held my attention this morning from the instant I saw it. I think it's a great American face there, worthy of Mt. Rushmore. I'm not kidding, and I'm not saying it's a stone cold face. I mean that's a presidential face we're looking at. There's no doubt in my mind this candidate could handle the job. Except...except...
What is wrong with that picture? This is a portrait of a person in conflict. Cover the left side of her face as you're looking at her. In the half you see there's even a flicker of a smile, an openness, a quality of friendliness that I know she has. Now cover the other half. Woe, there is a person you wouldn't want to cross. Something unforgiving there in someone who's been banged around a lot.
I attempt this crude and rather adolescent psychology on Hillary Rodham Clinton because a certain unpredictability has permeated her campaign as well. If you watched her in debate with Barack Obama Thursday night, you saw it too. I didn't know what she was going to do next. She seems genuinely to like the man when she's standing right in front of him, looking him in the face. But then she'll go back to the it-should-be-in-your-own-words thing, and draw a shudder of disappointment from Obama, and boos from the crowd. Who is this person?
Maureen Dowd goes after it this morning, and while I do some shuddering myself at the masculine/feminine behavior characteristics in the column, I think she's on to something. She thinks Clinton is calculating her different approaches to impress various voting groups. She wants to be tough and macho for some, and sensitive and understanding for others. I think I have to differ with Ms. Dowd on this, though I'm really glad she noticed the stuff and decided to write about it. I'm not sure Senator Clinton is in control of how she's coming off. I think she's reeling from blows received in the ring.
Bill Clinton will be in Athens tomorrow, and I'm afraid the announcement came too late for me to clear my calendar. I do hope to get to it before it's all over, trusting he'll be an hour late like most of these guys. Former President Clinton is the first, and I hope not the last, of the big names to get to this important corner of the state. As the rest of the Ohio continually reminds us, we're rather different here. Some people even refer to Southeast Ohio as the West Virginia part of the state. There's some truth to that, going all the way back to glacial times. But let's not get into climate change.
Or maybe we should. When ARE these candidates going to mention it? And did you see McCain's record of environment votes?
http://www.thenation.com/blogs/passingthrough?bid=769
Check out the fascinating final part of that blog entry to see how the new legislators, who replaced NINE of the 12 so-called "dirty dozen" in the last election, are doing.
Here's the link to Maureen Dowd's column this morning.
http://www.nytimes.com/2008/02/24/opinion/24dowd.html?th&emc=th
Let me say in another criticism of it (and I'm grateful to my online acquaintance Elle for reminding me of this), while Shirley Chisholm's presidential run in 1972 may not have been taken seriously she definitely was a serious candidate. I supported her too, just as far as she could go.
http://en.wikipedia.org/wiki/Shirley_Chisholm